If you're a basketball fan, you know that Florida has produced some incredible NBA talent over the years. As you dive into the world of NBA players from Florida, you'll quickly learn that the Sunshine State has been home to several basketball stars. From Hall of Famers to promising rookies, there's no shortage of impressive athletes hailing from this part of the country.
By exploring the careers of these players, you can get a glimpse of Florida's impact on the NBA landscape. It's fascinating to see how the basketball culture in Florida has shaped the lives and careers of these athletes, giving them the foundation to thrive on the professional stage. So, as you read about the NBA players from Florida, take a moment to appreciate their journeys and the role their home state played in their success.
Early Life and Collegiate Career
Before many NBA players from Florida hit the big stage, they started their athletic journey in "The Sunshine State", where they honed their basketball skills and began gaining recognition. It all started in their early life and collegiate careers, playing for renowned universities like Florida and Florida State, which are home to fantastic NCAA basketball programs.
In Florida, many young athletes aspired to join the University of Florida Gators. The Gators' basketball program has produced notable NBA talents such as Chandler Parsons and Joakim Noah. In particular, Parsons played for the University of Florida from 2007-2011, earning SEC Player of the Year honors during his senior year source. With the Gators, he helped lead the team to multiple NCAA tournaments, further solidifying Florida as a powerhouse in college basketball.
Meanwhile, over at Florida State University, another batch of Florida-born talents played for the Seminoles. Standout players include the likes of former NBA guard Bob Sura, who excelled in FSU's program from 1991-1995 source. Sura contributed significantly to FSU's success during his tenure and set numerous records for the university, eventually being selected in the NBA Draft.
In addition to these specific examples, numerous other talented athletes have come from these Florida-based NCAA programs. With strong basketball foundations in place, these universities have continuously provided an exceptional platform for local athletes to showcase their abilities and eventually transition into the NBA. So, when you're watching your favorite NBA team, don't be surprised to see some familiar faces who once graced the courts in the Sunshine State.
From College to NBA Draft
As an NBA fan, you might be curious about the talented NBA players from Florida who made their way from college basketball to the prestigious NBA Draft. In this section, we'll take a look at some notable Florida college players who were drafted into the NBA and discuss the teams they joined and their draft years.
Florida has been the source of several notable NBA players, with universities like the University of Florida producing top-tier talent for the league. By the year 2022, there were 38 NBA/ABA Players who hailed from Florida universities. Among them, two players made a mark in the 2021 NBA draft: Scottie Lewis and Tre Mann. Both players are now playing in the G League, after being selected by pro teams.
Some of the successful NBA players from Florida include:
Bradley Beal: Drafted in 2012, Beal has been with the Washington Wizards since the beginning of his professional career. Over the years, he has become one of the top shooting guards in the league and a multiple-time All-Star. Beal was picked third overall in the first round.
Al Horford: A five-time NBA All-Star, Horford was drafted in the first round as the third overall pick in 2007. The power forward / center started his NBA journey with the Atlanta Hawks, and he has since played for multiple teams like the Boston Celtics and Oklahoma City Thunder. He's currently with the Boston Celtics for the second time.
David Lee: Another player from the University of Florida, Lee was drafted in the first round as the 30th overall pick by the New York Knicks in 2005. The power forward has played for various teams, including the Golden State Warriors and the Boston Celtics. Lee has a championship under his belt from his time with the Warriors in 2015.
Money can't buy you happiness, but it can buy you a yacht big enough to pull up right alongside it.

David Lee
Joakim Noah: Noah was selected as the ninth overall pick in the 2007 NBA Draft by the Chicago Bulls. He spent almost a decade with the team and was twice selected as an All-Star. Throughout his career, Noah was known for his defensive prowess, which earned him the NBA Defensive Player of the Year award in 2014.
NBA Careers of Florida-born Players
If you're a fan of basketball, you've probably noticed the rise of talented NBA players from Florida. In this section, we will be shedding some light on the NBA careers of famous Florida-born players, including their stats and achievements.
Bradley Beal, born in St. Louis, Missouri, and raised in Florida, has had an impressive NBA career. As a shooting guard for the Washington Wizards, Beal has made three All-Star appearances and was named to the All-NBA Third Team in 2021. He is known for his scoring ability and sharpshooting skills.
Another noteworthy player is Al Horford, a big man from Puerto Plata, Dominican Republic, who grew up in Florida. Over his career, Horford has played for the Atlanta Hawks, Boston Celtics, Philadelphia 76ers, and currently, the Oklahoma City Thunder. He is a versatile player with five All-Star appearances and an NCAA championship under his belt.
Rookie sensation Scottie Barnes is a Florida native who took the NBA by storm during the 2021-2022 season. Drafted by the Toronto Raptors, Barnes demonstrated exceptional skills on both ends of the floor and became a strong contender for Rookie of the Year.
Florida's basketball history includes legends like Vince Carter and Tracy McGrady. Carter enjoyed a lengthy career spanning 22 seasons, collecting memorable highlights and earning 8 All-Star selections. McGrady, on the other hand, was a prolific scorer who bagged 7 All-Star selections and two scoring titles during his NBA tenure.
Last but not least, Gilbert Arenas was an explosive scoring guard, gaining fame as "Agent Zero." Hailing from Tampa, Florida, Arenas had a meteoric rise, earning three All-Star selections and an All-NBA Second Team in 2007.
Positions Held
As a fan of basketball, you might have noticed that NBA players from Florida have made a significant impact on the league. This section will highlight the various positions held by these talented athletes, showcasing their versatility and skill in the game.
Point guards are crucial to a team's offense, controlling the ball and setting up plays. Florida has produced talented point guards such as Jason Williams, who had a successful NBA career with teams like the Sacramento Kings, Memphis Grizzlies, and Miami Heat. With quick thinking and impressive ball-handling skills, Williams was a true asset to his teams.
Centers are known for their dominance in the paint, blocking shots, and scoring up close. Florida-born player Dwight Howard stands out as a prime example with his numerous accolades, including eight-time NBA All-Star and three-time Defensive Player of the Year. Howard's presence on the court was undoubtedly intimidating.
Forwards in the NBA often display a mix of skills, and Florida has gifted the league with remarkable forwards as well. Grant Hill stood out in his NBA career, playing as both a small forward and a power forward. A seven-time NBA All-Star, Hill demonstrated his ability to score and rebound with ease, while also being a great playmaker for his team.
Shooting guards, like forwards, are also versatile, and among them, Vince Carter was one of the most exciting players to watch. A native of Florida, Carter earned the nickname "Vinsanity" for his high-flying dunks and impressive shooting abilities. He played an astonishing 22 seasons in the NBA, showcasing his consistency and dedication to the game.
Individual Player Statistics
As a fan of basketball, you might be interested in knowing more about NBA players from Florida. In this section, we will be discussing individual player statistics, including stats, height, weight, games played, points per game, rebounds per game, and assists per game. Let's dive into some of the standout players who hail from the Sunshine State.
Tim Hardaway Jr., a shooting guard born in Miami, has made a name for himself in the NBA. Standing at 6'5″ and weighing 205 lbs, he has been a reliable scorer for his teams. Over his career, Hardaway has played in numerous games and averaged respectable points per game. More information on Hardaway Jr. can be found here.
Besides Hardaway Jr., there are many other talented NBA players originating from Florida. You can find a comprehensive list with a total of 127 NBA and ABA players born in Florida here. Some of these players have had stellar careers, while others have played valuable roles on their respective teams.
As you explore the world of NBA players from Florida, remember that player statistics can vary greatly depending on various factors like injuries, team dynamics, and personal performance. By looking into these players' stats, heights, weights, games played, points per game, rebounds per game, and assists per game, you can get a better understanding of their individual contributions to the sport.
Feel free to check out ESPN's NBA player stats to stay updated on the latest performances and achievements of your favorite Florida-born NBA players. Happy exploring!
Standout Players from Florida
Throughout the history of the NBA, there have been many exceptional players who hail from Florida. A state known for producing talented athletes, Florida has blessed the NBA with numerous skilled players who have excelled on the court. Here are some notable NBA players from Florida who left a lasting impact on the game.
Udonis Haslem, a Florida native and longtime member of the Miami Heat, is one of the most prominent players from the state. His resilient attitude and leadership on and off the court have earned him a special place in the hearts of Heat fans. He was a key part of the team that won the 2006 NBA title, alongside fellow Florida native Jason Williams.
Another standout player from Florida is David Robinson. Nicknamed "The Admiral," Robinson had a storied career with the San Antonio Spurs and is widely regarded as one of the greatest centers in NBA history. His accolades include two NBA championships, an MVP award, and ten All-Star selections.
Young talents like Tre Mann and Scottie Lewis are among the newest generation of NBA players from Florida, eager to showcase their skills on the professional stage. Both Mann and Lewis were drafted in the 2021 NBA Draft and have bright futures ahead of them in the league.
Florida has also produced a number of standout players who have achieved success in the NBA, such as Matt Bonner and Corey Brewer. Bonner and Brewer each won NBA titles with their respective teams, while others like Joakim Noah and Vernon Maxwell have become fan favorites due to their tenacity on the court and unique personalities.
Current Florida Players in NBA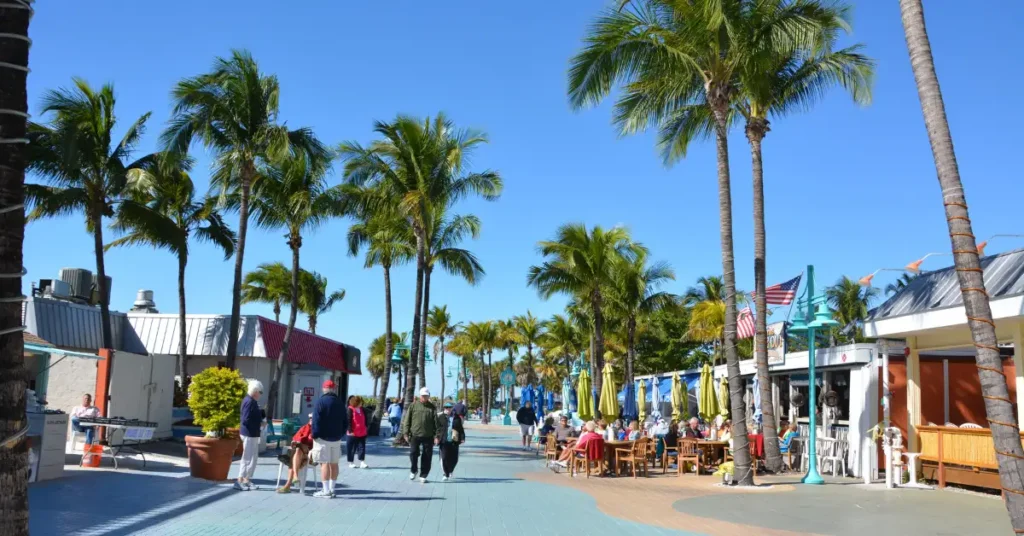 If you're a basketball fan, you must be excited to learn more about the NBA players from Florida in the 2023-2024 season. The Sunshine State has produced some talented athletes who made a name for themselves in the league. From seasoned veterans to young talents, there is no shortage of skill on the court.
Dorian Finney-Smith has become a valuable contributor to his team. His tenacious defense and ability to stretch the floor with his shooting makes him a reliable asset. Similarly, Chris Chiozza is an impressive point guard known for his court vision and playmaking abilities.
Aside from current players, let's not forget about some retired NBA stars hailing from Florida. For instance, Andrew Declercq had an 11-year career in the league, providing solid rebounding and defensive presence. David Lee, a two-time NBA All-Star and NBA champion, was also born in Florida and enjoyed a successful career.
Some Florida Gators alumni in the NBA include Mike Miller, who was known for his shooting prowess, and Donnell Harvey, an aggressive forward. Matt Walsh and James White also graced the league with their presence, leaving a lasting impression.
Finally, keep an eye on up-and-coming talents like Devin Robinson and Erik Murphy, who are looking to make their mark in the NBA.
Teams Impacted by Florida Players
As an NBA fan, you might already know that several teams have been greatly impacted by the stellar performance and contribution of various NBA players from Florida. Let's take a look at some of these Florida-born or -bred talents and how they've made their mark on key NBA teams.
The San Antonio Spurs were hugely influenced by Florida native David Robinson. Known as "The Admiral," Robinson led the Spurs to two NBA championships, making a lasting impression on the franchise's history.
In the case of the Dallas Mavericks, they had a high-caliber player in Corey Brewer, who was part of the Florida Gators' back-to-back NCAA Championships team. Although he didn't have the same impact as he did in college, Brewer still contributed as a solid role player during his time with the Mavericks.
For the Houston Rockets, Tracy McGrady, another Florida talent, had a massive impact on the team. As a scoring machine, he was a key factor for the Rockets during his tenure there, even though they couldn't achieve a championship during that time.
The Phoenix Suns have had their share of notable Florida players as well, with Amar'e Stoudemire leading the way. With his explosive athleticism, Stoudemire proved to be an essential part of the Suns' high-octane offense during the mid-2000s.
When it comes to the Washington Wizards, they have been relying heavily on the scoring ability of Bradley Beal, who has been their star during the latter part of the 2010s and into the 2020s.
The Golden State Warriors have benefitted from the presence of players like David Lee and Marreese Speights, both of whom won a title with the team in 2015. Their presence on the bench and in the locker room was a crucial part of the Warriors' success during their championship run.
In the East, the Boston Celtics had an important presence in Al Horford, another one of the standout Florida Gators. Horford played a fundamental role in the Celtics' playoff runs during the late 2010s, reinforcing their frontcourt with his veteran leadership and defensive prowess.
The rich history of the Chicago Bulls includes Joakim Noah, a relentless defender and energetic big man. Known for his passionate play, Noah was a fan favorite in Chicago and contributed greatly to the team's success during the early 2010s.
Lastly, the Miami Heat-Florida connection goes deep with players like Udonis Haslem and Mike Miller. Both were essential components of the Heat's championship rosters in 2012 and 2013, playing crucial minutes and being leaders on and off the court.
Florida Player's Contributions to NBA Championships
As an NBA fan, you might be curious about the impact of NBA players from Florida on the league's biggest stage. In this section, we'll take a quick look at some of the Florida players who played crucial roles in NBA Championships, playoffs, and All-Star games.
First, let's talk about the Miami Heat's championship run. In 2012 and 2013, Mike Miller, a former Florida Gator, played a pivotal role for the Heat. His clutch shooting proved vital in helping them win back-to-back championships source. Miller wasn't the only Florida alumni on the team. Udonis Haslem, another former Gator, brought his gritty rebounding and team-first mentality to the Heat throughout their championship years.
Now, let's shift our focus to the Golden State Warriors' title in 2015. Two Florida alumni, David Lee and Marreese Speights, were essential contributors to the Warriors' success. They provided versatility, size, and scoring off the bench for their team. Their impact on the Warriors' championship run is yet another example of how NBA players from Florida shine on the league's brightest stage source.
Florida players have also made their presence felt during the NBA playoffs. For instance, Al Horford, Corey Brewer, and Joakim Noah were selected in the top-ten picks of the 2007 NBA Draft, and all three made notable contributions to their respective teams' playoff runs source. From Horford's defensive prowess with the Atlanta Hawks to Brewer's hustle plays for the Denver Nuggets and Noah's energy with the Chicago Bulls, these players brought their winning pedigree from their college days to the NBA.
Finally, let's not forget the All-Star game. Florida players, such as Al Horford and Bradley Beal, have received multiple All-Star selections, showcasing their undeniable talent. These players, among others, have represented Florida admirably on the grand stage and continue to be fan favorites source.
Retired Florida Players
As a basketball fan, you might be interested in exploring the history of NBA players from Florida. In this section, we'll highlight some noteworthy retired players who were born or raised in the Sunshine State.
One notable former Florida player is Randy Allen, who spent two seasons in the NBA after being drafted by the Sacramento Kings in 1988. Allen had a short but respectable professional career, making his mark in the league as a dependable forward.
Another retired player, Trevor Ariza, had a much longer and successful NBA career spanning over 16 years. Ariza won an NBA championship in 2009 with the Los Angeles Lakers. Known for his defensive prowess and athleticism, Ariza left a lasting impression on the league and served as a valuable asset to every team he played for.
Dwayne Bacon also hails from Florida and enjoyed a brief NBA career. A second-round pick in the 2017 NBA Draft, Bacon displayed flashes of potential throughout his time in the league.
Ricky Blanton is another retired player born in Florida who spent time in the NBA. Although he played just one season (1992-93), Blanton made sure to leave a mark with his hustle and determination on the court.
Another Floridian, James Collins, played four seasons in the NBA after being drafted by the Philadelphia 76ers in 1997. Collins was known for his shooting ability and solid fundamentals, which allowed him to contribute to his teams during his career.
Lastly, Mickey Dillard was an NBA player from Florida who was drafted in 1981 and spent one season with the Cleveland Cavaliers. Dillard's NBA stint may have been short-lived, but he still contributed to his team in a meaningful way.
These retired NBA players from Florida mentioned above have certainly left their mark on the league and provided countless memorable moments for basketball fans to cherish. It's always fascinating to look back and appreciate their contributions to the world of professional basketball.
My Personal Opinion
In my personal opinion, the impact of NBA players hailing from Florida is a reflection of the state's deep-seated basketball culture and its knack for producing exceptional talent. From the iconic Miami Heat's championship runs to the electrifying moments on the Orlando Magic's court, Florida's influence on the NBA is undeniable.
Witnessing players like Dwyane Wade rise to stardom with the Miami Heat was a testament to the symbiotic relationship between a player and their city. Wade's tenacity, leadership, and all-around skills mirrored the spirit of Miami, and his role in the Heat's championship successes cemented his legacy as an NBA great.
And then there's the magic of players like Shaquille O'Neal, who made Orlando a basketball hub with his larger-than-life personality and dominance on the court. The way O'Neal's presence elevated the Magic's status showcased how a single player can transform a franchise and capture a city's heart.
FAQ
How many NBA players were born in Florida?
127 players were born in Florida.
What is the largest US city without an NBA team?
Seattle lost the SuperSonics to Oklahoma City in 2008 and is currently the largest city without an NBA team.
What is the smallest NBA city?
The smallest NBA market in terms of TV audience is Memphis. New Orleans is a smaller metropolitan area than Memphis, but the Pelicans have a slightly larger TV reach.
If you enjoyed reading about the topic: NBA Players from Florida, leave a comment and stay updated on Pinterest for more exciting basketball news.