NBA players with shoe deals have become a significant aspect of the basketball world. It's always exciting when your favorite player gets a signature sneaker, spotlighting their unique style and performance on the court. A shoe deal is often the biggest endorsement deal for a player, making up a majority of their off-court income.
In recent years, several high-profile NBA players have scored shoe deals with major brands, further cementing their influence both on and off the court. These partnerships not only generate lucrative contracts for the athletes, but also contribute to the global growth of basketball and the shoe industry.
Rise of Shoe Deals in the NBA
I think, you might have noticed how NBA players with shoe deals have become increasingly common over the years. In the past, only a select few stars had lucrative endorsements, but the landscape has dramatically changed. In this section, we will explore the rise of shoe deals in the NBA and how they have affected players, endorsements, and the performance market.
The NBA has seen a significant increase in the number of players signing shoe contracts in recent years. This can be linked to the growing popularity of basketball not only in the US but also around the world. Chinese brands, in particular, have been eager to capitalize on basketball's popularity and have signed deals with more than 50 NBA players since the mid-2000s.
The performance market for basketball sneakers is also expanding, attracting more companies to invest in player endorsements. As a result, an increasing number of NBA players now have signature sneaker deals, showcasing their unique styles and branding. A great example is the Nike Ja 1, Jordan Tatum 1, and Austin Reaves Rigorer AR1, which have recently been added to the collection of signature basketball sneakers.
With more players entering the league and the stakes getting higher, bidding wars for endorsements have become more intense. Companies are willing to spend millions to secure a top talent, which further drives up the contracts value. For instance, some of the biggest contracts in the NBA history have been signed by active players like LeBron James, Kevin Durant, and Stephen Curry.
On one hand, these lucrative deals benefit players by providing them with additional income streams, allowing them to capitalize on their on-court success. On the other hand, high-profile endorsement deals also come with a certain level of pressure, as players are expected to continually perform at their peak and maintain a positive image off the court.
Iconic NBA Player Shoe Deals
Welcome to the world of NBA players with shoe deals! In this section, we'll talk about some iconic partnerships between your favorite basketball stars and top shoe brands. Buckle up, and let's dive right in!
When it comes to Nike, there's no denying that LeBron James has one of the most lucrative deals. The partnership began in 2003, and since then, they've made history together. With multiple signature shoes under King James, his deal is reportedly worth around one billion dollars.
Perhaps the most legendary player-shoe partnership is that of Michael Jordan and the coveted Jordan Brand. MJ's association with Nike started in 1984 and revolutionized the sneaker industry with the iconic Air Jordan line. Today, the brand has a massive following and continues to release sought-after sneakers.
Kevin Durant, another NBA superstar, enjoys a successful partnership with Nike. This top-scoring player has a variety of distinctive sneakers under his name, and his deal is believed to be worth around $300 million.
Nike's dominance doesn't stop there. Giannis Antetokounmpo and Russell Westbrook also have their own signature shoes with the brand. Giannis debuted the Zoom Freak line in 2019, while Westbrook has been showcasing his unique style through the Why Not? series.
The late Kobe Bryant had a significant impact on the world of basketball and sneakers. His partnership with Nike resulted in several exceptional shoe designs. At the time of his tragic passing, his deal was valued at about $250 million.
From the beginning, I wanted to be the best. I had a constant craving, a yearning, to improve and be the best.

Kobe Bryant
While Nike is undoubtedly a major player, other brands have formed impressive alliances with NBA stars. Stephen Curry, for instance, signed with Under Armour and launched the popular Curry series. This partnership has significantly boosted Under Armour's presence in the basketball world.
Lastly, we have James Harden and his collaboration with Adidas. The Beard's deal is reported to be worth an estimated $200 million, and it has spawned some memorable sneakers. The Harden line is unmistakable, boasting distinctive designs and impressive performance.
These iconic NBA player shoe deals not only serve to enhance the players' performances but also offer fans an opportunity to wear their favorite athletes' signature kicks. From Nike to Adidas and Under Armour, the influence of these stars on sneaker culture is undeniable.
Signature Shoe's Influence
When it comes to NBA players with shoe deals, their signature shoes play a significant role in the world of basketball and sneaker culture. Not only do these shoes provide top-notch performance for the athletes, but they also have a huge impact on the fans and the market.
The presence of signature sneakers in the NBA is undeniable. These shoes cater to the unique style and performance needs of some of the most popular and successful athletes. As a fan, you probably have a favorite player whose signature shoe you just can't wait to get your hands on. These sneakers are a way to connect with your favorite stars while also enjoying the latest in athletic footwear technology.
Basketball and sneaker culture are closely linked, and signature sneakers are at the heart of this connection. Players with their own shoe lines, such as LeBron James and Luka Doncic, constantly push the boundaries of design and functionality. This not only benefits the players themselves but also creates trends and styles that fans want to replicate on and off the court.
Signature sneakers also have a significant influence on the overall sneaker market. High demand for popular models means exclusive releases and skyrocketing resale prices. This thriving market, in turn, attracts collectors, enthusiasts, and even casual consumers who want to invest in these limited-edition kicks.
Next Generation of Signature Shoes in the NBA
I'm sure, you might have noticed that some star players are getting their own signature shoe deals. This new generation of NBA athletes is taking the league by storm, and their popularity on and off the court has led to exclusive sneaker collaborations. Let's take a look at some of these exciting partnerships.
The explosive power and agility of Zion Williamson have earned him a shoe deal with the Jordan Brand. He is now the face of the Zion 1, a sneaker designed to keep up with his high-flying style of play.
Luka Doncic, with his fantastic court vision and seemingly effortless ability to make jaw-dropping plays, has caught the attention of the sneaker world and now has a partnership with Jordan Brand.
Adidas recognized Damian Lillard's legendary clutch performances and his dedication to the game by giving him his own signature shoe: the Adidas Dame. Lillard's line focuses on comfort, responsiveness, and style, making the sneakers a perfect fit for both on-the-court performance and off-court fashion.
Young superstar Jayson Tatum joined forces with Jordan Brand to release the Jordan Tatum 1, a sneaker that showcases Tatum's smooth moves and style. The shoe features unique design elements inspired by Tatum's background and personal story.
Joel Embiid, the dominant big man for the 76ers, collaborated with Under Armour to create the Embiid One. These sneakers are designed for athletes who demand support, comfort, and adaptability on the court, just like Embiid.
The sharpshooter Trae Young has dazzled fans with his uncanny range and skill, earning himself an Adidas signature shoe: the Trae Young 1. The sneaker aims to provide excellent traction, support, and responsiveness for players who strive to make an impact on the game like Young.
Finally, the flashy and entertaining style of LaMelo Ball has garnered the attention of the sneaker world. PUMA jumped at the opportunity to sign Ball and release the PUMA MB.01, a shoe that encapsulates Ball's dynamic skills and unique flair.
As you can see, these NBA players with shoe deals are making waves in the sneaker world, providing fans with stylish and functional footwear options. Keep an eye out for these athletes as they continue to excel on the court and shape the future of signature shoes in the NBA.
Non-American Player Shoe Deals
You may be curious about the world of nba players with shoe deals involving non-American players. In recent years, there has been a significant increase in players from China and Europe securing lucrative partnerships with major shoe companies. In this section, we'll explore some of the notable shoe deals involving international NBA players.
European NBA stars like Giannis Antetokounmpo have also found success in the shoe market. Giannis, a native of Greece, signed a deal with Nike, launching his popular signature shoe line called "Zoom Freak." The partnership was a perfect match, as Giannis' global appeal and incredible on-court talent made him a desirable partner for the major shoe brand.
Klay Thompson, another NBA star, took a different approach when he left Nike in 2014 and signed a 10-year, $80 million deal with the Chinese brand Anta. This unique partnership helped the Warriors' guard to stand out from the crowd and further solidify his status as an international basketball icon. Thompson has since released six signature shoes with Anta, highlighting the success of their collaboration.
Chinese shoes brands such as Anta, Li-Ning, 361 Degrees, and Peak have been making significant inroads in the NBA shoe deal market, especially with non-American players. These brands have capitalized on the growing popularity of basketball globally and have targeted NBA stars with international appeal to be their brand ambassadors.
Retired Players and Their Legacy in Shoe Deals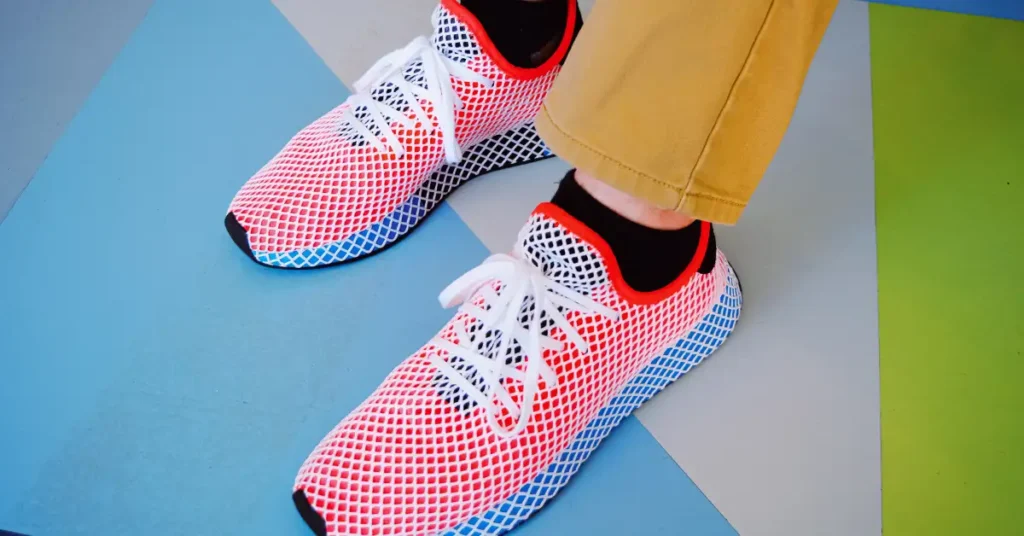 As an NBA fan, you've probably noticed the significant impact that retired NBA players with shoe deals have made on the sneaker world. These legends not only left their mark on the court, but also in the sneaker industry, establishing their legacy with iconic shoe lines that continue to thrive long after their retirement.
One of the most iconic retired NBA players with a shoe deal is, of course, Michael Jordan. His Air Jordan line revolutionized sneaker culture. Even after his retirement, the Air Jordan brand continues to release new models and re-releases of classic designs, maintaining its reputation as one of the most sought-after sneakers worldwide.
Another example is Kobe Bryant, who, before his tragic passing, signed a five-year deal with Nike following his retirement in 2016. This ensured that the Mamba's shoe line would continue to thrive post-retirement. Kobe's signature sneakers remain popular among fans, and Nike continues to honor his legacy through new releases and innovative designs.
In addition to these legends, several other retired NBA players have managed to make a lasting impact on sneaker culture. Some have signed lifetime deals with their respective brands, ensuring that their shoes will stay in rotation for years to come. For example, LeBron James has a lifetime deal with Nike, which will keep his sneakers on shelves and on the feet of fans even when his playing days have ended.
Behind the Process: Negotiation and Signing
When it comes to NBA players with shoe deals, there is a lot that goes on behind the scenes during the negotiation and signing process. Understanding the dynamics of these deals helps to shed light on how players secure lucrative contracts and exclusive product endorsements.
To start, a player's agent negotiates a deal with a shoe company, like Nike, Adidas, or New Balance. In these negotiations, several components such as base salaries, royalties, incentives, and bonuses are discussed. Base salaries provide players with a guaranteed amount, while royalties come into play when signature sneakers are sold, allowing them to earn additional income based on sales performance.
Incentives and bonuses form a vital part of a player's shoe contracts, as they encourage on-court success. These can include performance-related milestones like All-Star selections, MVP awards, or even winning a championship. Such bonuses motivate players to excel while also raising the value of the brand they represent.
Of course, not all NBA players land mega-deals. Some sign "merchandise-only" contracts where they receive free shoes and gear from a brand without the financial perks. However, for the lucky few, lucrative deals can come into play. For example, in 2018, Kawhi Leonard left his endorsement deal with Jordan Brand (a subsidiary of Nike) for a multimillion-dollar contract with New Balance.
NBA shoe deals vary based on a player's marketability and performance, with established stars enjoying more significant deals. It's also common for rookies to sign smaller contracts, leveraging their potential to achieve more competitive deals in the future.
In the world of NBA players with shoe deals, creating a successful partnership involves an intricate process of negotiation and signing. From base salaries and royalties to incentives and bonuses, these contracts showcase both the player's talent and market value to enhance the basketball footwear industry. The next time you lace up your sneakers, you'll have a greater appreciation for the off-court journey that led to their creation.
From Court Performance to Market Performance
You've likely noticed how your favorite players are showcasing their style and skills, not just on the court but also through the sneakers they wear in every game. NBA players with shoe deals have captured both the hearts of fans and the attention of big sportswear brands.
In the 2022-23 NBA season, footwear fanatics can look forward to new signature sneakers from top athletes like LeBron James, Kyrie Irving, and others who have Nike shoe contracts. The shoes don't just make a fashion statement; they represent a significant source of revenue for both the athletes and the brands they're associated with.
NPD analyst Matt Powell reveals that non-retro performance basketball shoes accounted for only about 3% of the overall U.S. sneaker market this year. However, this figure is expected to grow as the sneaker market slowly recovers from the pandemic-induced slump. According to Powell, overall sneaker sales will most likely grow in the coming years but won't achieve 2019 levels until 2022.
Cowen & Co., a prominent financial services company, predicts that performance basketball sneakers could become more popular thanks to increasing NBA viewership and a growing interest in the sport globally. As the deals between NBA players and sportswear giants like Nike, Adidas, and Under Armour increase, so does the importance of their performance on the court and how their sneakers resonate with fans.
So during this NBA season, take a closer look at your favorite players' footwear and see how their on-court success is translating into lucrative partnerships and stylish sneakers that they wear. Remember, it's not just about watching an exhilarating game of basketball but also witnessing the fascinating interplay between professional athletes and the world of fashion and sports commerce.
New Entrants in the Shoe Deal Sphere
As a fan of the NBA, you must have noticed the recent rise of new entrants in the shoe deal sphere. NBA players with shoe deals are not just limited to big names like Nike and Jordan anymore. Innovative brands such as Puma, Under Armour, Converse, and Three Stripes are also making their mark, signing noteworthy deals with promising players.
Puma has been making an impressive comeback lately in the basketball world. After a long absence, they've reentered the game by signing some up-and-coming NBA talents. This has definitely caught the attention of fans and players alike, showcasing Puma's commitment to the sport and their fresh take on performance basketball shoes.
On the other hand, Under Armour has been a growing force in the basketball shoe market for a while now. With star athletes like Stephen Curry among their endorsers, they have managed to establish a strong presence in the NBA. This has not only helped Under Armour strengthen their brand reputation but also showcased their innovative, performance-enhancing products to a wider audience.
Converse, a classic name in the world of sneakers, has also decided to expand its reach in the basketball shoe market after a long hiatus. By signing NBA players, they are renewing their commitment to basketball and reviving their iconic image as a go-to brand for stylish and functional footwear. Through these deals, Converse looks forward to not only boosting sales but also reestablishing themselves as a key player in the basketball shoe industry.
Lastly, Three Stripes has been gaining traction as a popular choice for NBA athletes. This brand, known for its modern designs and high-quality materials, offers a unique alternative to more established brands. By partnering with NBA players, Three Stripes aims to make a statement in the basketball shoe market and increase their visibility among fans and players alike.
My Personal Opinion
In my personal opinion, the realm of NBA players with lucrative shoe deals is not just about sports and footwear; it's a dynamic intersection of athleticism, style, and cultural influence. These players have transcended the court to become icons of both the game and the fashion world.
When I see players like Michael Jordan, whose partnership with Nike birthed the iconic Air Jordan line, it's evident that these collaborations go beyond sneakers. They become symbols of aspiration, determination, and the pursuit of excellence. The way these athletes put their personal touch on each shoe design creates a connection between fans and the players themselves.
FAQ
How many NBA players have a shoe deal?
The top players bring more than $25 million to $30 million annually (including royalties) from these deals, and roughly 20 NBA players (out of 450) have signature shoe deals, including brands like Nike, Adidas, Under Armour, Jordan Brand, New Balance, Anta, K8iros, and Peak.
Does Ja Morant have a sneaker deal?
Nike signed Morant to a multi-year shoe deal in 2019, while he signed a five-year contract extension with the Grizzlies last season that includes $193 million guaranteed. The 23-year-old also has a sponsorship with Powerade. "What's going to happen now?
What is the biggest shoe deal in history?
Although Nike has made itself a big-name brand, many would say that the Air Jordan made Nike a much bigger company, as it continues to be a multi-billion dollar company. With a value of $130 million, Jordan tops the list of highest earning sneaker deals according to Forbes.
Does LeBron have a shoe deal?
LeBron James is one of three NBA players with a lifetime contract with Nike. James has been with the shoe giant since before he entered the league in 2003.
If you liked this blog article about NBA Players with Shoe Deals, don't forget to leave us a comment down below to tell us about your experience.