If you're a basketball fan, chances are you have noticed Ja Morant's unmistakable style on and off the court. The Memphis Grizzlies' young star has quickly made a name for himself not only for his impressive skills on the court, but also for his unique sense of fashion and his fresh, free-form dread hairstyle. In this article, you'll discover what makes Ja Morant's style so eye-catching and learn how to incorporate elements of his look into your own wardrobe or hairstyle.
From his variety of creative hairstyles to his effortlessly cool outfits, Ja Morant's style conveys his personality and individuality. Whether he's rocking kamikaze twists, parted cornrows, or dread buns, there's no denying that his hair choices are a key element of his overall image. As for his fashion sense, Ja Morant is often spotted in designer brands like Louis Vuitton, Dior, and Bape, demonstrating his preference for high-quality, statement-making attire.
Early Life and Career
As a fan of NBA, you might have come across the unique Ja Morant Style. His impressive skills on the court and his journey to become a professional basketball player make for an exciting story. In this section, let's take a look at Ja Morant's early life and how it influenced his career.
Born on August 10, 1999, in Dalzell, South Carolina, Ja Morant had a natural affinity for sports, thanks to his athletically skilled parents, Tee and Jamie Morant. Despite being relatively under the radar in high school, Ja's dedication to the game ultimately led him to the NCAA. He played college basketball for the Murray State Racers, where his hard work made a remarkable impact on the team.
During his NCAA season, Morant made a name for himself with his superb performance. He started all 32 games as a freshman, averaging 12.7 points, 6.5 rebounds, and 6.3 assists per game in the 2017-18 season. His gameplay quickly caught everyone's attention, drawing the eyes of the NBA.
In the 2019 NBA draft, Ja Morant was selected as the second overall pick, right after Zion Williamson. The Memphis Grizzlies saw his potential as a point guard and welcomed him into their team. Morant didn't disappoint, as he brought his unique style and flair to the NBA. He immediately made his presence felt on the court, showcasing agility, scoring ability, and playmaking skills that turned heads.
His stellar performance during the 2019-20 season earned him the NBA Rookie of the Year award. Morant became an essential part of the Memphis Grizzlies, and his distinctive style continued to evolve. He is known for his agility, creativity, and fearlessness on the court, always determined to outdo his competition.
Playing Style and Achievements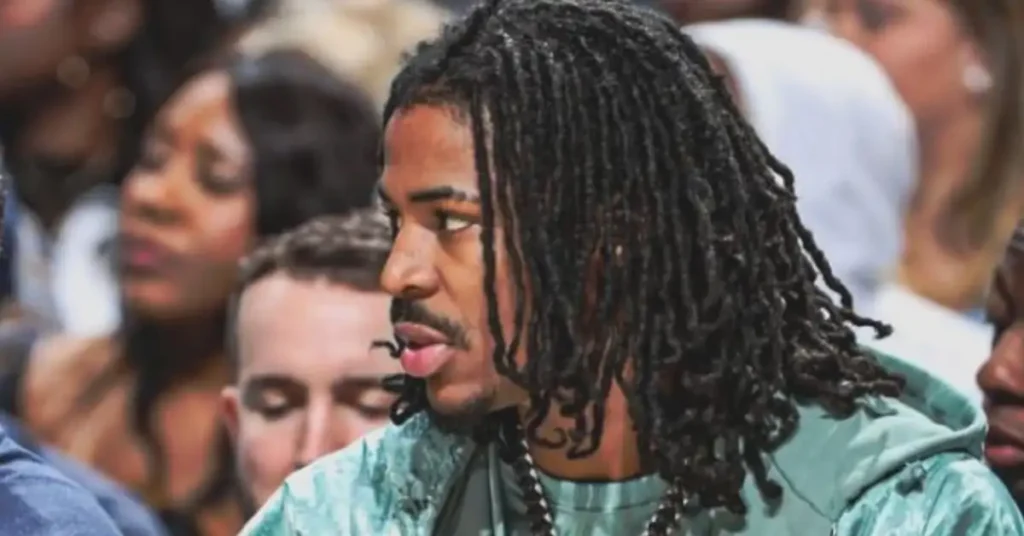 When you watch Ja Morant play, his style is undeniably captivating. This dynamic point guard has an exceptional blend of speed, athleticism, and skill that defines the NBA's future. Here, we'll discuss the key aspects of Ja Morant's style on the basketball court and some of his achievements so far.
Ja Morant's playing style is characterized by his incredible athleticism, speed, and explosiveness. At 6'3″, his size allows him to drive to the basket effectively and finish with acrobatic layups and powerful dunks. This skill set is complemented by his ability as a playmaker, regularly dishing out assists for his teammates. As a young point guard, his court vision and decision making are also impressive attributes.
Apart from his craftiness around the rim, Morant has proven his scoring versatility by improving his 3-point shooting percentage. Although not his primary weapon, adding this skill to his repertoire increases the threat he presents to opponents.
On the defensive end, Morant's quickness and leaping ability make him a disruptive presence. He often contests shots and has a knack for intercepting passes, showcasing his tenacity and commitment to both ends of the floor.
During his time in the NBA, Ja has achieved numerous milestones. In his rookie season, he averaged a double-double with 17.8 points and 7.3 assists per game, leading to the Rookie of the Year award. Moreover, he showcased his potential for becoming an MVP candidate, with his Memphis Grizzlies team featuring in the Western Conference playoffs in the regular season.
While injuries are an unfortunate part of the game, Morant has demonstrated his resilience and determination to return to the court and elevate his performance. His partnership with Jaren Jackson Jr. adds further depth and potency to the Grizzlies' roster, transforming the team into a formidable force within the league.
Our goal is to win the championship, and I feel like as long as we stay locked in, continue to grow together, play together, that goal can be achieved, we just got to stay the course, take it day by day and let it play out.

Ja Morant
Comparison with Other NBA Stars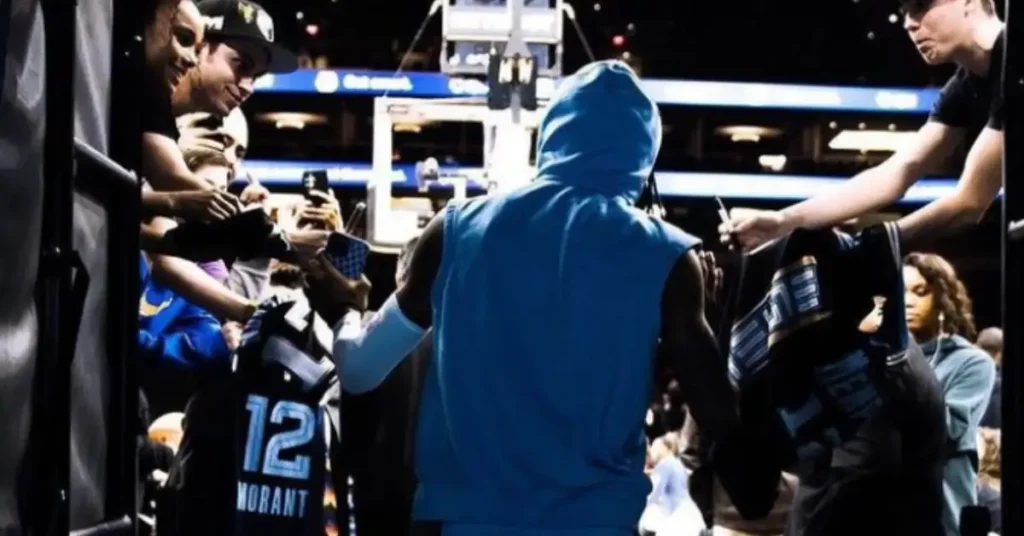 Thinking about Ja Morant's style on the court, it's easy to notice he possesses a blend of athleticism and creativity that makes fans eager to watch his every move. As a professional basketball player, Morant's game seems to emulate great veterans and revolutionaries in NBA history. In this section, you'll explore some comparisons between Ja Morant and other NBA stars.
One notable comparison that fans and experts frequently draw is between Morant and Russell Westbrook. Both players exhibit explosive athleticism and an aggressive playstyle that captivates spectators. The way they attack the rim and distribute the ball to their teammates shows a focus on team synergy and winning above all else.
Another player Morant has been compared to is Allen Iverson. Both are known for their dazzling handles and an ability to slice through defenses with ease. Their uncanny ability to break down opponents has often led to stunning plays and game-defining moments.
When it comes to team dynamics, Ja Morant displays a "Voltron-like" approach with his Memphis Grizzlies teammates. Just like the famed robot, the Grizzlies rely on their individual strengths to form a unified powerhouse on the court. Morant's leadership, playmaking, and scoring abilities are integral to the team's success.
In terms of fantasy basketball value, Morant has quickly become a highly coveted asset. His impressive stat lines and ability to contribute across multiple categories translate well to the virtual hardwood. The determined guard's tenacity and skill have made him a reliable option for fantasy team managers looking to bolster their roster.
Sporting his signature starter locs, Morant has quickly become an iconic figure in the NBA landscape. His unique image, combined with his undeniable talent, has captured the hearts of fans young and old. The future holds a lot of promise for this electrifying point guard, and all eyes are on him as he continues to develop his craft.
Offensive and Defensive Skills
Ja Morant's style combines a unique blend of offensive and defensive skills that have made him a rising star in the NBA. As a fan of the game, you'll appreciate Ja Morant's ability to excel both in creating scoring opportunities and in shutting down his opponents. Let's explore his impressive skill set.
On offense, Morant is highly effective at distributing the ball to his teammates. He has an uncanny ability to find open shooters like Desmond Bane and Dillon Brooks, as well as explosive finishers such as Steven Adams. He can quickly navigate through on-ball pick situations, breaking down defenses and creating open shots for his teammates.
Another essential aspect of Morant's offensive game is his driving layup and floater. These moves allow him to score in isolation situations. When driving to the basket, he can adjust his body mid-air, making it difficult for defenders to block his shots. This part of his game often results in spectacular SportsCenter-worthy plays that leave fans in awe.
On the defensive side, you'll find that Morant is no slouch either. While he's known for his offensive prowess, he also showcases remarkable defensive abilities. His agility and quickness enable him to stay in front of his defenders and contest their shots effectively. As a result, he can force turnovers and trigger fast breaks which often leads to easy points for his squad.
Role and Impact
When you think of Ja Morant's style, it's not just his fashion sense that catches your attention; his skills on the basketball court are equally eye-catching. His unique approach to the game, combined with his exceptional talent, has made Morant a starter and a standout NBA player.
As a point guard, Morant has a significant impact on the pick-and-roll/pop game. His superb ball-handling and vision allow him to seamlessly navigate through screens, making it tough for defenders to keep up. He knows how to read defenses and create opportunities for his teammates, contributing to a highly efficient offense.
When it comes to defense, Ja Morant does not shy away from challenges. Although not known primarily for his defense, Morant still manages to make a difference by using his quickness, length, and anticipation. This allows him to collect valuable rebounds and deliver game-changing blocks.
Ja Morant Style Influences and Hair
When it comes to Ja Morant Style, his hair is one of the most recognizably unique features that basketball fans and fellow players have come to admire. The NBA star has been known for his free-form dreads, which he creatively styles in ways such as thick braids, kamikaze twists, parted cornrows, locks, shorts, and ponytails. The evolution of his hairstyle has been something to watch since the 2020 season and up to the present.
While Ja Morant's locks may be considered unconventional in the more mainstream world of hairstyles, they have become an inspiration for many to embrace their individuality. One of the most iconic Ja Morant hairstyles is his skinny dreads, that are worn medium-length, just above his shoulders. They are so thin that they can sometimes be mistaken for braids or twists, but they are indeed traditional dreads.
So, how do you achieve this unique hairdo? Well, you should let your hair grow naturally, then cut it to make it look like dreadlocks or free-form locks. One popular method of creating dreadlocks is to use comb coils, and then twist the hair further to create a two-strand twist. Adding gel, wax, or other hair products can help in maintaining the shape and preventing frizz. To keep your locks healthy and neat, it's important to wash them regularly and maintain a proper hair care routine, which includes moisturizing and re-twisting the locs.
Apart from dreadlocks, Ja Morant's style has also featured parted cornrows and taper fades. These hairstyles add a touch of urban finesse to his overall look. Like any other hairstyle, achieving the perfect cornrows and taper fade requires patience, practice, and the right tools.
Online Presence and Impact
This NBA player has made quite an impact not just on the court but also in the world of fashion and social media. With a strong online presence across various platforms, Ja Morant's unique sense of style and engaging personality has captured the attention of fans and followers worldwide.
One of the key platforms showcasing Ja Morant's style is his Instagram account. Here, you can find numerous posts featuring his bold fashion choices, such as his Bape ABC Pink Du-Rag and Off-White Arrow Tie Dye Slim-Fit Grey T-Shirt. Videos and photos of Ja Morant rocking these outfits give fans a glimpse of his personal taste and a source of inspiration for their own wardrobe decisions.
In addition to Instagram, YouTube also offers a wealth of content related to Ja Morant's style. From highlights of his NBA games to interviews and behind-the-scenes footage, you can find plenty of material showcasing not only his basketball skills but also his fashion sense. These videos further reinforce his status as a style icon in the world of professional basketball.
Articles, like the one from Eurohoops.net, delve into the impact of Ja Morant's social media presence on his career and the NBA as a whole. NBA Commissioner Adam Silver has recognized the importance of online engagement for the league and its players, and Ja Morant's skyrocketing following is a testament to his influence both on and off the court.
As a fan, it is not difficult to stay connected with Ja Morant and keep up with his latest fashion and style choices. By following him on various platforms, you'll be on the cutting edge of what's trending in the world of sports and fashion, as Ja Morant continues to make waves in the NBA and beyond.
My Personal Opinion
In my personal opinion, I find Ja Morant's style to be incredibly distinctive and captivating. It's a reflection of his vibrant personality and the charisma he brings to the basketball court.
I believe that Ja's style goes beyond just fashion; it's a statement. His unique sense of fashion combines elements of streetwear, athleticism, and urban flair. It's an embodiment of his confidence and individuality, much like his playing style on the basketball court.
I think what's particularly remarkable about Ja's style is its accessibility. While he dons designer labels on occasion, he also embraces more affordable and relatable pieces, making his style attainable for fans who wish to emulate it.
Moreover, I find that Ja's fashion choices tell a story. Whether it's his bold color choices, trendy sneakers, or statement accessories, his outfits often convey a sense of youthful energy and fearlessness. It's an expression of his youth and his generation's cultural influences.
FAQ
What is Ja Morant new shoe called?
The "Ja 1" sneakers have been a success for Nike and Memphis Grizzlies star Ja Morant. The signature shoes have quickly sold out upon each drop, and have already been made in several different color ways.
Did Nike remove Ja Morant's signature shoe?
Ja Morant's signature shoe is REMOVED from Nike's website and some apps after second pistol-waving incident in as many months.
What recently happened to Ja Morant?
Morant has been suspended 25 games by the NBA, Shams Charania of The Athletic reports. Morant was suspended from team activities by the Grizzlies in May after appearing to flash a gun during an Instagram Live video.
If you enjoyed reading about the topic: Ja Morant Style, leave a comment and stay updated on Pinterest for more exciting basketball news.