When you first hear the name "young Ja Morant," it's hard not to be impressed by his meteoric rise to NBA stardom. As a gifted point guard for the Memphis Grizzlies, Ja has quickly made a name for himself in the basketball world. Thanks to his incredible athleticism, electrifying playstyle, and undeniable leadership, he has captured the attention of fans and analysts alike.
You might be curious about how Ja Morant embarked on his journey to becoming an NBA sensation. From his humble beginnings in South Carolina to his standout collegiate career at Murray State and eventual selection as the second overall pick in the 2019 NBA draft, Ja's path has been nothing short of inspiring. Join us as we explore the story of young Ja Morant and discover what makes this talented athlete truly exceptional.
Early Life in South Carolina
As a young Ja Morant, he spent his early years growing up in South Carolina. Born in Dalzell, Morant was raised in the small town of Sumter. His love for basketball was evident from a young age, and his potential became clear as he continued to grow and develop his skills.
Morant's family played a significant role in his life. His parents, Tee and Jamie Morant, both had a passion for basketball, which they passed on to Ja. They provided an environment that nurtured his talent and encouraged him to work hard.
In high school, Morant attended Crestwood High School in Sumter, South Carolina. Despite being a talented player, he faced challenges in getting noticed by recruiting services. He was not ranked by ESPN, 247Sports, or Rivals. In fact, Morant's only high-major NCAA Division I offer came from the University of South Carolina.
Young Ja Morant's early life in South Carolina played a crucial role in shaping his basketball career. His family's support, combined with his determination to overcome obstacles, laid the foundation for his journey to the NBA.
College Career at Murray State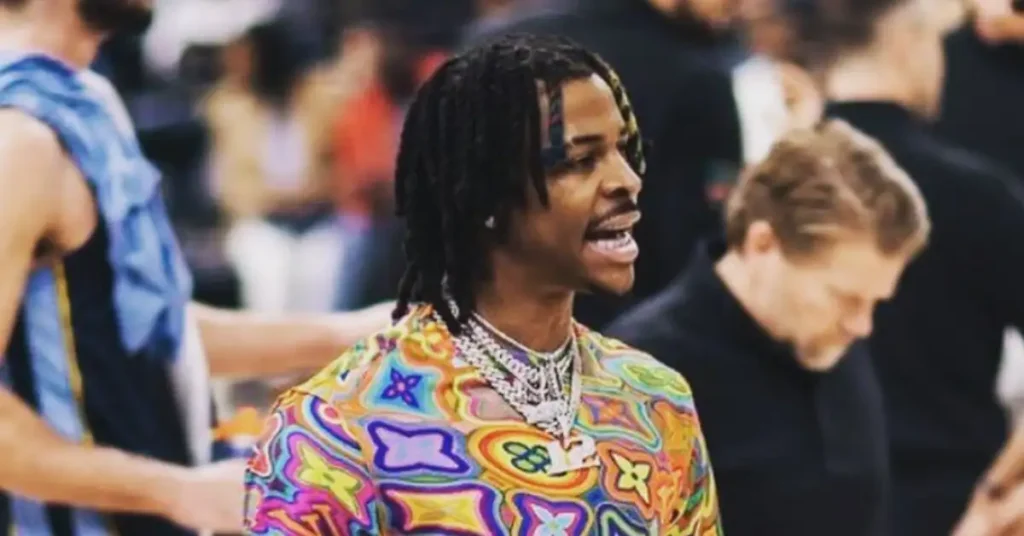 As a fan of young Ja Morant, you might be curious about his remarkable college career at Murray State University. Let's take a stroll down memory lane and relive some highlights from his time as a standout player in the NCAA Division I men's basketball scene.
Ja Morant began his journey at Murray State in the 2017-18 season as a freshman. He quickly made an impact on the team, debuting with 7 points and 11 assists in a victory over Brescia University source. From then on, he continued to thrive, helping the Racers win back-to-back NCAA tournament berths source. This was an impressive feat considering the last time Murray State had made consecutive appearances in the tournament was in a long time.
During his sophomore season in 2018-19, Morant truly blossomed. He won multiple All-America honors, including first-team recognition from prestigious organizations like the National Association of Basketball Coaches (NABC) and the United States Basketball Writers Association (USBWA) source. His extraordinary talent eventually caught the eye of the Bob Cousy Award committee, earning an entry in their final list recognizing the accomplishments of the best Division I collegiate point guard.
Ja Morant's recruitment journey was also quite notable. Despite not being highly recruited out of high school, once news spread of his skills, NCAA Division I programs like Murray State and South Carolina started taking interest source. Murray State ultimately emerged as the best fit for him, and the rest is history.
You could have people who actually play basketball, but they probably don't love it. I actually love it.

Ja Morant
2019 NBA Draft and Memphis Grizzlies
When talking about young Ja Morant, you can't miss discussing his journey with the NBA, specifically his selection in the2019 NBA Draft and his fantastic opportunity with the Memphis Grizzlies.
The Memphis Grizzlies selected Ja Morant with the second overall pick in the first round of the 2019 NBA Draft. It was no surprise as Morant had been making waves with his impressive play at Murray State University. Showing off his skills as an explosive point guard, he quickly rose to national prominence, capturing the attention of teams like the Grizzlies.
The Grizzlies were confident in their choice, and Ja Morant proved to be a valuable addition to the team. With Morant in the lineup, the Memphis Grizzlies established themselves as a cult favorite among NBA fans. His explosive style of play, combined with the team's solid foundation, set the stage for a bright future for both Morant and the Grizzlies.
As you continue to follow young Ja Morant's career, remember to take a moment to appreciate the start of his journey with the NBA Draft and the Memphis Grizzlies. Their faith in his abilities allowed him to showcase his skills in the big league, and his talents have brought the Grizzlies much-deserved attention and success.
Young Ja Morant Rookie Season Triumphs
When you think of young Ja Morant, one of the first things that might come to your mind is his remarkable rookie season with the Memphis Grizzlies in the NBA. He didn't waste any time making his presence known, and his performance on the court led to some well-deserved accolades.
During his first 25 games in the league, Ja Morant quickly made a name for himself by averaging 17.8 points, 7.3 assists, and 3.9 rebounds per game1. His impressive stats demonstrated his ability to contribute on both ends of the floor, and it wasn't long before he started turning heads.
Morant's outstanding performance during his rookie season led to him being honored with the prestigious Kia NBA Rookie of the Year award2. This achievement made him the second player in the Memphis Grizzlies history to receive this recognition, and it showcased what a dominant force he had become early in his career.
In addition to being named Rookie of the Year, Ja Morant was also selected as a starter for his first NBA All-Star Game in 20223. This selection further solidified his status as a rising star in the league and gave him the opportunity to showcase his skills on a larger stage.
As you look back on young Ja Morant's triumphs during his rookie season, it's easy to see why he's considered one of the most promising young talents in the NBA. With his dynamic playmaking, fearless attitude, and unwavering determination, there's no doubt that he will continue to make a name for himself in the years to come.
Footnotes
Career Achievements and Records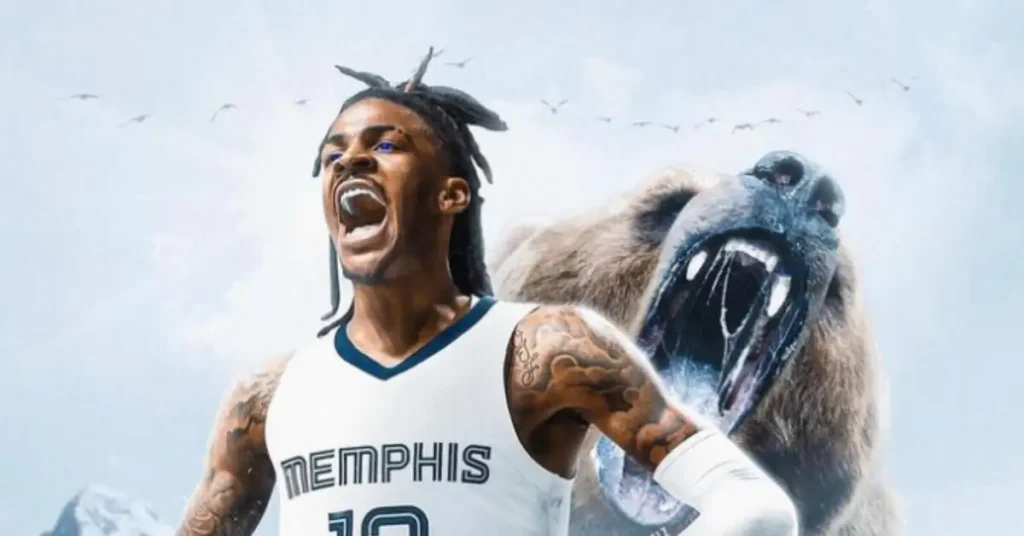 As a fan of the young Ja Morant, you might already know some of his impressive achievements and records. But let's take a moment to appreciate some of the significant milestones in his career so far.
Ja Morant made a name for himself in college basketball when he played for Murray State. During his time there, he won the Bob Cousy Award as the nation's top point guard and became the first player to average at least 20 points and 10 assists since the NCAA officially began tracking assists in 1983-84.
After being drafted 2nd overall by the Memphis Grizzlies in the 2019 NBA Draft, Morant continued to build on his success. In his rookie season, he earned the NBA Rookie of the Year award, thanks to his incredible performance and impact on the Grizzlies.
In the 2022-23 season, Morant cemented his status as one of the brightest young stars in the NBA. His stats speak for themselves: he ranked 11th in points per game (26.2), 56th in rebounds per game (5.9), and 5th in assists per game (8.1). And while he hasn't made an All-NBA team just yet, his consistent improvement and potential suggest it's only a matter of time.
When it comes to triple-doubles, Morant has already demonstrated his ability to fill the stat sheet. He's known for his incredible speed, athleticism, and basketball IQ, which contribute to his ability to stuff the stat sheet in various categories – points, rebounds, and assists. With his potential and dedication, you can expect many more triple-double performances from Ja Morant in the future.
Performance Analysis
When it comes to analyzing the young Ja Morant's performance, his time in the NBA has already shown tremendous promise. You can see significant improvements in his game, including his AST, FG%, 3P%, FT%, Rebounds, and other essential stats. As a point guard, his impact on the Memphis Grizzlies during the playoffs speaks volumes about his potential.
Morant's ability to facilitate the game as a point guard has been impressive. In his three-year NBA career, he has displayed a strong sense of court vision and passing skills. In fact, his assist numbers have been consistently high, allowing his teammates to get easy baskets and make the most of scoring opportunities.
Ja Morant's shooting efficiency has been solid as well. With a respectable field goal percentage (FG%) and gradual improvements in his three-point shooting (3P%), he has proven to be a versatile scorer. Additionally, Morant's free throw percentage (FT%) has improved over the years, highlighting his dedication to honing his craft.
Rebounds are another area where Morant has shown growth and ability to contribute. Though not a primary focus for many point guards, Morant has been doing his part in securing boards, both on the offensive and defensive ends of the floor. This skill helps create more offensive opportunities for his team while limiting the opponents' chances.
It's important to mention Morant's contributions during the playoffs as well. In his first two playoff games, he scored a whopping 73 points, including 47 points in Game 2, a performance that caught the attention of the league and fans alike. These numbers indicate that Morant isn't afraid of the big stage and can stand up to the pressure when it matters most.
Major Games and Oppositions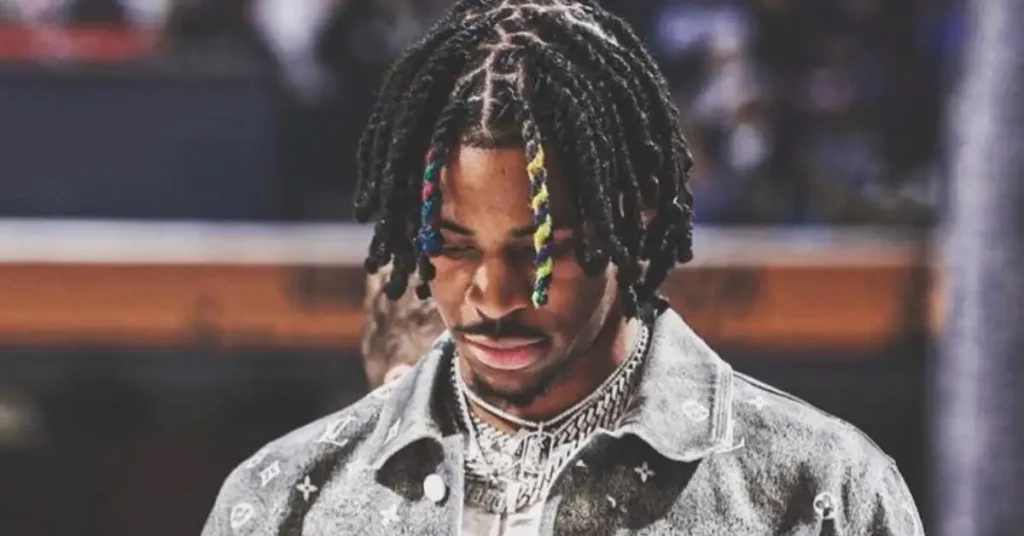 As a fan of the young Ja Morant, you've probably witnessed some of his remarkable performances in the NBA. In this section, we'll take a look at a few noteworthy games that showcased Morant's talent and the opposition he faced, so you can better appreciate his journey.
One of Ja Morant's standout performances came against the Atlanta Hawks in his rookie season. During that game, Morant displayed his incredible playmaking and scoring abilities, helping the Memphis Grizzlies to a thrilling victory. This match-up with the Hawks pitted Morant against another rising star, Trae Young, and it certainly didn't disappoint.
When the Grizzlies took on the Golden State Warriors, Morant showed his prowess once again. He went head-to-head with the likes of Stephen Curry, and although the Grizzlies fell short in that game, Morant's skill and determination were undeniable. His ability to compete at such a high level against a formidable team like Golden State speaks volumes about his potential.
Morant also faced tough opposition in the Utah Jazz during the 2021 playoff series. In this Western Conference match-up, the young point guard exceeded expectations, demonstrating immense control and poise on the court. Despite facing a team known for its strong defense, Morant continued to shine and held his own against seasoned players.
Finally, when the Grizzlies went up against the New York Knicks at the Madison Square Garden, Morant's star continued to rise. Even when surrounded by the bright lights of New York City, he remained unfazed and delivered an outstanding performance. The electric atmosphere only seemed to fuel Morant's drive, as he led his team to yet another victory.
Throughout these games, young Ja Morant has proven that he has the skill, determination, and resilience to take on the NBA's best. As you continue to follow his career, you can look forward to many more memorable moments and fierce competitions on the horizon.
Public Image and Social Media Presence
As a young Ja Morant fan, you've probably seen how he has made a significant impact on and off the court. With a quickly growing presence on platforms like Twitter and Instagram, Ja has become a basketball influencer. Let's take a closer look at his social media presence and how it has influenced his public image.
Ja Morant's success on the court has translated to his popularity on social media. With explosive plays and impressive stats, he's managed to establish a strong presence on platforms like Twitter and Instagram. As his popularity grows, he's had opportunities to partner with brands, further boosting his image and reach.
However, his public image hasn't always been positive. In 2023, Ja Morant experienced a significant setback after twice displaying a gun on social media, resulting in an eight-game suspension for the first incident and additional consequences for the second incident. Such instances have shown the perils associated with being a public figure, especially when social media posts can have lasting effects.
Despite the setbacks, it's important to remember that athletes like Ja Morant are human, and mistakes can happen. As fans, we can appreciate the incredible talent he brings to the game while understanding everyone has room for growth and improvement.
Remember, being a fan of young Ja Morant means standing by him through the triumphs and the challenges, as we watch his career and social media presence continue to grow and evolve.
My Personal Opinion
In my opinion, Young Ja Morant's story is a testament to the power of talent, dedication, and hard work in the world of professional basketball. His journey from a young boy with dreams of making it big in the NBA to becoming a rising star with the Memphis Grizzlies is nothing short of inspirational.
I find it fascinating how Ja Morant's early experiences and challenges shaped him into the player he is today. His determination to overcome obstacles and pursue his passion for basketball is a lesson in perseverance and resilience that can inspire not only aspiring athletes but anyone with a dream.
I believe that Young Ja Morant's impact extends beyond the basketball court. As a young athlete of considerable influence, he has the potential to be a role model for the next generation. His dedication to his craft, humility, and commitment to giving back to his community are qualities that can inspire young people to pursue their passions and make a positive impact in their own lives and communities.
FAQ
Is Ja Morant left handed?
So when Jaa was a kid, he dislocated his arm in a trampoline accident, and it changed his game in a major weight, as it causes his left arm to grow a couple more inches. Ja is naturally right handed, but due to this incident, he favors his left hand.
Is Ja Morant's left arm longer?
JA Morant said that his left arm and hand is longer. and bigger than his right one. because of what he used to do as a kid
If you enjoyed reading about the topic: Young Ja Morant, leave a comment and stay updated on Pinterest for more exciting basketball news.