You've probably debated with your friends about which team boasts the best backcourt in NBA. It's a conversation that gets basketball enthusiasts excited, as opinions vary and each season brings fresh talent and unexpected combinations. In this article, you'll dive into an in-depth analysis of the current NBA landscape, comparing dynamic duos and star-studded pairings that make up the league's elite backcourt contenders. You'll discover the factors that contribute to a strong backcourt and learn about this season's standout performances that have solidified their place as the best in the NBA. Get ready to explore the on-court partnerships that can change the game and set the standard for excellence.
The Concept of a Backcourt
Everyone is always looking for the best backcourt in the NBA, and for a good reason. A team's backcourt is crucial to their overall success, as it consists of their guards who are responsible for controlling the pace and flow of the game. In this section, let's explore the idea of a backcourt, its roles, and dynamics.
Backcourt Roles: Point Guard and Shooting Guard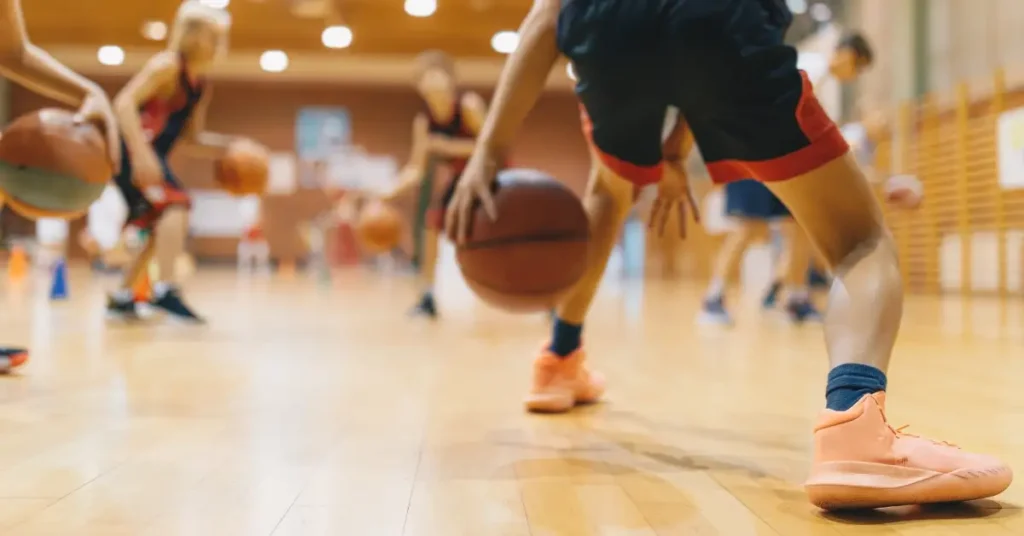 The backcourt is made up of two distinct positions:
Point Guard (PG): Often referred to as the "floor general," the point guard is responsible for directing the offense, setting up plays, and ensuring that the team is in the right position. They are typically great ball handlers, passers, and have a high basketball IQ.
Shooting Guard (SG): This position is more focused on scoring and is usually the team's primary perimeter shooter. The shooting guard is expected to excel at off-the-ball movement, cutting, and creating open shot opportunities for themselves and their teammates.
Both roles are vital in the backcourt, and finding a pair that complements each other can significantly elevate a team's success.
Backcourt Dynamics
Understanding the dynamics of the backcourt is essential when assessing its effect on a team's performance. A strong backcourt will typically have:
Chemistry: The best backcourts have a strong understanding of each other's playing styles and know how to anticipate their teammates' moves. This often develops over time, as the players learn each other's strengths and weaknesses.
Balanced Skill Sets: Ideally, you want a point guard with excellent passing and playmaking abilities, combined with a shooting guard who can reliably score from the perimeter and create their own shot. A balance in skill sets ensures versatility in the offense.
Solid Defense: In addition to their offensive prowess, a successful backcourt must also excel on the defensive end. Quick, agile guards with good lateral movement and a knack for anticipating their opponents' next move can keep the other team's scoring at bay.
Golden State Warriors' Splash Brothers
When you think about the best backcourt in NBA, the Golden State Warriors' Splash Brothers definitely come to mind. Their dynamic combination of Stephen Curry and Klay Thompson has taken the league by storm, breaking records, and winning championships.
Stephen Curry
Stephen Curry, a three-time NBA champion and two-time MVP, has been revolutionizing the game with his extraordinary shooting and playmaking abilities. His dribbling and off-the-dribble shooting make him one of the most lethal offensive guards in the league. With Curry on the floor, you always have a chance to witness some of the most jaw-dropping and game-changing moments.
Notable Achievements: 2x NBA MVP, 7x NBA All-Star, 3x NBA champion
Klay Thompson
Playing alongside Curry is the sharpshooting Klay Thompson. Known for his incredible catch-and-shoot ability and lockdown defense, Thompson is an essential piece of the Golden State Warriors' success. His ability to go on scoring sprees under pressure has earned him the nickname "Game 6 Klay" for his clutch performances in playoff games.
Notable Achievements: 5x NBA All-Star, 3x NBA champion, 2x All-NBA Third Team
As a duo, Curry and Thompson form the Splash Brothers, a term coined for their eye-popping shooting prowess from beyond the arc. Their talent, chemistry, and basketball IQ have made the Warriors' backcourt a feared and respected force in the NBA.
Together, the Splash Brothers have brought the Golden State Warriors to new heights, including a historic 73-win season in 2015-16 and three championships in just four years. Their impact on the game is undeniable, inspiring a new generation of guards and changing the way the game is played.
Other Notable Backcourts
When discussing the best backcourt in NBA history, it's worth recognizing other notable backcourts that have left their mark on the league. In this section, we'll explore historic NBA duos, as well as current NBA stars that continue to impress.
Historic NBA Duos
Through the years, several backcourt duos have become legendary for their on-court chemistry and success. A prime example is the duo of Michael Jordan and Scottie Pippen on the Chicago Bulls. Together, they won six NBA championships and helped build the Bulls' dynasty in the 90s.
Another prominent tandem to consider is Magic Johnson and Byron Scott from the LA Lakers. Their partnership was critical in securing numerous titles and setting the Showtime Lakers era in motion during the 1980s.
The Boston Celtics also boasted an impressive backcourt duo in Bob Cousy and Sam Jones, as the pair contributed greatly to the team's success during the 1950s and 1960s. And let's not forget the menacing "Bad Boy Pistons" duo of Isiah Thomas and Joe Dumars, who became known for their aggressive and confident play on the court.
Current NBA Stars
Today's NBA landscape is full of talented backcourts that showcase skill and teamwork. Damian Lillard and CJ McCollum from the Portland Trail Blazers exemplify a strong backcourt, as they have consistently produced elite offensive numbers for the team.
The Phoenix Suns duo of Chris Paul and Devin Booker recently made headlines for their incredible run to the 2021 NBA Finals. They continue to be a powerful presence in the league through their exceptional playmaking and shooting abilities.
Further adding to the list, Trae Young and Bogdan Bogdanović from the Atlanta Hawks have emerged as an effective backcourt, efficiently taking control of games and making a significant impact during the 2021 playoffs.
Minus the fluff, the best backcourt in the NBA is a much-debated topic, with notable historic duos and current NBA stars garnering attention for their out-of-this-world skills and teamwork.
Assessing the Best Backcourts
Let's dive into some key factors that contribute to a top-tier backcourt: shooting and scoring abilities, defensive prowess, and chemistry and teamwork.
Shooting and Scoring Abilities
In today's NBA, having a backcourt that can consistently shoot and score is essential to team success. The elite backcourts often feature both a premier point guard and a sharpshooting shooting guard. The best backcourt duos showcase an impressive mix of speed, finesse, and shooting accuracy, making them a matchup nightmare for opposing teams. Some examples of such backcourts include Golden State's Stephen Curry and Klay Thompson, the shooting stars of the league with multiple All-Star and All-NBA selections.
Defensive Prowess
While scoring ability is crucial, having a backcourt with strong defensive skills can significantly impact a team's success. A well-rounded duo will feature both an on-ball defender capable of locking down the other team's primary playmaker and a shooting guard with the length and quickness to contest shots from the perimeter. Elite backcourts often have a history of racking up steals and deflections while maintaining a low foul rate, making them menacing opponents and valuable assets to their teams. It's not just about being in their prime; it's about the ability to perform consistently on the defensive end throughout their careers.
Chemistry and Teamwork
Finally, one of the most essential ingredients in a successful backcourt is chemistry and teamwork. In basketball, the synergistic relationship between a point guard and a shooting guard is incredibly important. Seamless communication, smart decision-making, and unselfish play can all contribute to a cohesive backcourt that elevates a team's performance on the court.
The best backcourts in NBA history have shown an innate understanding of each other's strengths and weaknesses, ultimately leading to more wins and deep playoff runs. When a backcourt is clicking, both players are not only the starting backcourts for their respective teams but also leaders on and off the court. By analyzing their skills and checking rankings, you can better understand where they stand among the all-time best backcourts in NBA history.
My Personal Opinion
In my opinion, the best backcourt in NBA history is a topic that sparks endless debates among basketball fans. There have been so many incredible guard duos over the years, each bringing their unique style and skills to the game.
From the legendary pairing of Michael Jordan and Scottie Pippen with the Chicago Bulls to the dynamic Stephen Curry and Klay Thompson of the Golden State Warriors, there is no shortage of iconic backcourts to admire. Each duo has left an indelible mark on the sport, showcasing their chemistry, scoring ability, and playmaking prowess.
FAQ
What is the best backcourt in NBA history?
Chris Paul and James Harden
Kobe Bryant and Derek Fisher
Michael Jordan and Ron Harper
Walt Frazier and Earl Monroe
Tony Parker and Manu Ginobili
Magic Johnson and Byron Scott
Bob Cousy and Sam Jones
How many shots did Steph Curry miss?
Stephen Curry has missed 4,539 shots from beyond the arc in his career.
If you liked this blog article about the topic: Best Backcourt in NBA, don't forget to leave us a comment down below to tell us about your experience.