NBA YoungBoy, also known as YoungBoy Never Broke Again, is not just an American rapper who's made a significant impact on the hip-hop scene with albums like "Life Before Fame" and "Sincerely, Kentrell". He's also become a style icon with his unique outfits, offering inspiration for those looking to up their fashion game.
When you explore the world of YoungBoy NBA's wardrobe, you'll notice a mix of styles ranging from streetwear to high-end designer pieces. With his fashion choices, YoungBoy NBA has garnered a massive following of fans who adore not only his music but also his sense of style. As you dive into NBA YoungBoy outfits, see how you can incorporate some of his favorite brands and clothing items into your own wardrobe for an edgy and contemporary look.
NBA YoungBoy's Signature Style
I think, when it comes to NBA YoungBoy outfits, there's no doubt that this rapper has a unique sense of style. Combining elements of streetwear and high fashion, his wardrobe is versatile while still being distinctly his. Let's dive into the components of YoungBoy's signature style, and how he makes it work so well.
One of the defining aspects of NBA YoungBoy's fashion is his ability to effortlessly mix street-style pieces with luxury brands. You'll often find him wearing clothing from brands like Amiri, Dior, Fendi, and Jordan. From his SXVSU Grey Layered Commencement Denim Hoodie, Dior Maxi Gallop Backpack, to his Fendi Squared Ff Buckle Belt and Jordan Air Jordan 11 Retro Cool Grey Sneakers, his outfits are often bold, dynamic, and always on-trend.
But it's not just about the brands for YoungBoy. He knows how to make a statement with his fashion choices as well. In his 'NEXT' music video, he combines several different outfits like the Rick Owens Reflective Puffer Jacket, Jordan 4 Sneakers, camo jeans, Prada Olive Green Boots, and various other pieces to create a visual feast for the eyes.
Comfort is also an essential aspect of NBA YoungBoy's style. He's often seen in casual streetwear items like hoodies, track pants, and sneakers, making sure that he looks good while also being comfortable. This is evident in his outfit from July 17, 2023, which consists of a Rick Owens Cerberus Chainlink Choker, Cabela's Windshear Camo Vest, Silent-Hide Pants, and Zoned Comfort Trac Insulated Rubber Hunting Boots.
Analysis of Outfit Components
When it comes to NBA YoungBoy outfits, there's no denying the rapper's unique sense of style. In this section, we'll take a closer look at the key components that make up some of his most iconic looks, focusing on tops, bottoms, and footwear.
Tops
NBA YoungBoy isn't afraid to showcase his taste for high-end brands and bold patterns in his choice of tops. Whether it's a white T-shirt from Polo Ralph Lauren seen in the Crazy Girl Official Video, or a sweatshirt like the Svxsu Grey Layered Commencement Denim Hoodie he wore on July 26, 2023, NBA YoungBoy knows how to make a statement with his upper garments. Other options you might find in his wardrobe include black T-shirts and designer cardigans like the Marni Striped Cardigan he sported on INC STYLE.
Bottoms
Equally important in NBA YoungBoy's outfits are his choice of bottoms. The rapper favors bold, eye-catching pants to complete his ensemble. For instance, on July 24, 2023, he was spotted in a pair of purple brand jeans, while the Next video featured him in striking yellow Moschino jeans. In other instances, NBA YoungBoy opts for comfortable and casual options like the light blue Nike Challenger Shorts featured in the Crazy Girl Official Video. Whether he's going for a street-style vibe or a more laid-back look, his choice of bottoms always adds an element of flair to his outfits.
Footwear
One thing that's consistent about NBA YoungBoy's style is his love for high-quality, stylish sneakers. A frequent go-to in his wardrobe is the iconic Nike Air Force 1, such as in the Next video, where he pairs them with yellow Moschino jeans for a striking combination. In addition to Nike, he also sports other brands like the Air Jordan 11 Retro Cool Grey Sneakers, as seen on July 26, 2023. No matter which brand or style he chooses, NBA YoungBoy's footwear always complements his outfits and adds that final touch of fashion-forward flair.
Prominent Brands in NBA Youngboy's Wardrobe
When it comes to NBA Youngboy outfits, this popular artist knows how to make a fashion statement. In this section, we'll take a look at some of the prominent brands that often find a place in his wardrobe choices, showcasing his unique sense of style.
NBA Youngboy is known for sporting high-end brands in his outfits. One of these is Dior, which he incorporated with a grey maxi gallop backpack priced at $4100. Dior has been a staple in his wardrobe on numerous occasions.
Another prominent brand in NBA Youngboy's outfits is Balenciaga. You can find Youngboy rocking a Balenciaga black 3B sports icon hat and even red Dynasty sunglasses in some of his photos. Balenciaga, with its edgy designs, definitely complements his energetic stage presence.
NBA Youngboy's outfits frequently include iconic Jordan sneakers, which demonstrate his love for this classic footwear brand. One example is his Air Jordan 11 Retro Cool Grey Sneakers, valued at $138. Jordan sneakers not only complete his look but also add a touch of style to his performances.
Staying true to high-end fashion, NBA Youngboy also loves accessorizing with Fendi pieces. In one of his outfits, you can spot a Fendi squared FF buckle belt priced at $543, a testament to his preference for luxury accessories.
While not as common as the other brands mentioned, Alexander McQueen has also made an appearance in NBA Youngboy's wardrobe. As a brand known for its innovative designs and striking aesthetics, Alexander McQueen offers a unique flair to his ensemble.
From high-end labels like Dior and Balenciaga to iconic sneakers by Jordan, NBA Youngboy's outfits illustrate his affinity for luxury and trendsetting fashion. These prominent brands in his wardrobe choices not only enhance his style but also reflect his dynamic personality.
Accessories and Additional Details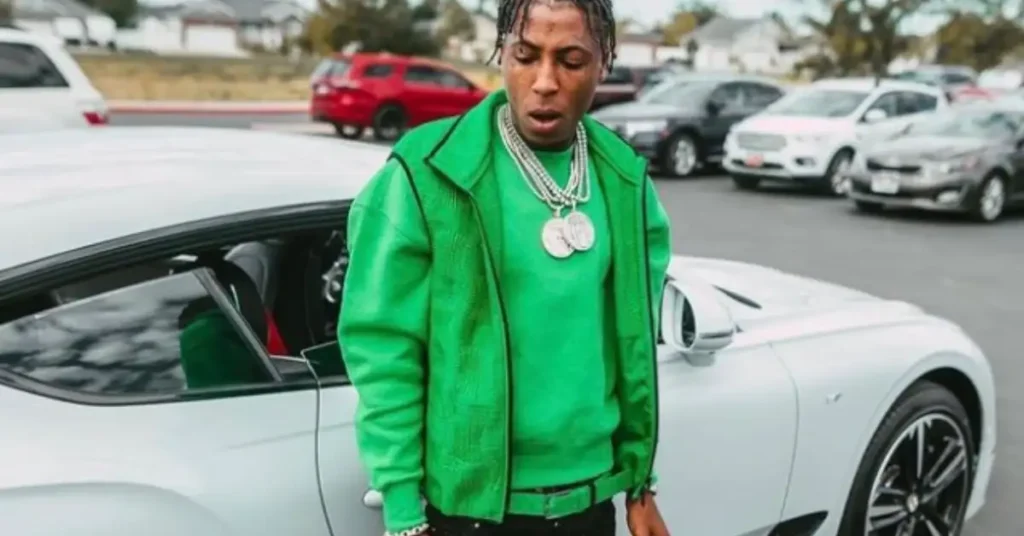 When it comes to NBA YoungBoy outfits, accessories and details truly make each look stand out. Let's dive into some essential components of his style, including belts and extras, as well as colors and patterns.
Belts and Extras
Incorporating belts and additional items can be seen in NBA YoungBoy's fashion choices, adding an extra layer of uniqueness to his style. Opting for various types of belts, he often pairs them with street-style looks as well as more luxurious outfits. Don't hesitate to mix up your belt choices – adding a high-quality belt can elevate your whole ensemble.
Color and Patterns
NBA YoungBoy's outfits frequently showcase a range of vibrant colors and bold patterns. His color choices often emphasize strong contrasts like the mix of black and yellow in his outfits, while patterns like plaid are sometimes featured in his clothing. Playing with different patterns and color combinations is a sure-fire way to replicate his style.
One of the items he has been spotted wearing is a Prada Gilet which adds luxury and an extra layer to his already unique outfit. Gilets, or vests, can be a fashion-forward way to upgrade your ensemble while still managing to radiate that friendly vibe. Experiment with involving them into your outfits for an NBA YoungBoy-inspired style.
As you explore the world of NBA Youngboy outfits, never be afraid to think outside the box. Mixing bold colors, eye-catching patterns, and statement-making accessories can help capture the essence of his style, while allowing your own flair to shine through.
Inspiration Sources for NBA Youngboy's Style
If you're a fan of NBA Youngboy, you know that his style goes beyond just his music. NBA Youngboy outfits have become a significant part of his persona, and they've captured the attention of his fans and fashion enthusiasts alike. But where does he find the inspiration for his unique style? Let's take a look at some of the potential sources.
One key inspiration source for NBA Youngboy's style is likely the influence of other artists in the industry. Hip-hop and street style have long been intertwined, and it's no surprise that Youngboy would draw ideas from the musicians he admires. This blend of street-style with high-end fashion can be seen in his music video for "Next", where he sports outfits that mix high-end brands like Prada and Dior with more urban elements.
Another possible influence for NBA Youngboy's outfits could be social media platforms, particularly Instagram. With over 10 million followers on his account, the rapper not only shares his music but also his fashion choices. Browsing through the feeds of other popular artists and style influencers, he might come across new trends and ideas to incorporate into his own wardrobe.
Lastly, NBA Youngboy may find inspiration in the works of fashion designers themselves. By keeping an eye on the latest runway shows and collections, he can stay updated on current trends and incorporate them into his outfits. For example, he has been seen wearing items from brands like Balenciaga, Fendi, and Dior, showing an appreciation for high-end fashion that aligns with his hip-hop style.
As you explore the world of NBA Youngboy outfits, remember that it's the combination of various sources of inspiration that makes his style unique. His ability to blend elements of streetwear, high-end fashion, and the influence of other artists results in a distinct look that continues to captivate fans and fashion enthusiasts alike.
How to Shop NBA Youngboy's Look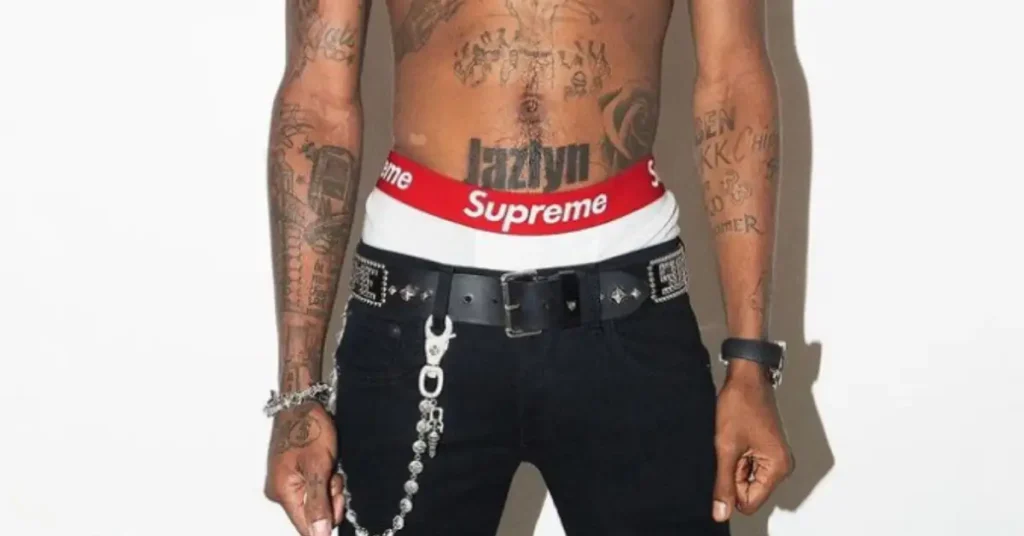 So, you're a fan of NBA Youngboy's distinctive style and want to incorporate some of his outfits into your wardrobe, right? Don't worry; we've got you covered. In this brief section, we'll guide you on how to shop NBA Youngboy's look and snag similar items on sale or through a catalog.
First things first, WHAT'S ON THE STAR? is a fantastic place to browse and shop for outfits worn by NBA Youngboy himself. They provide accurate details along with prices of items, making it easier for you to make a purchase decision.
Another great resource is Incorporated Style, which curates a collection of NBA Youngboy's most popular outfits and even lists the associated brands like Balenciaga, Nike, and Ralph Lauren.
If you're on a budget but still want to capture his style, look for affordable streetwear brands, thrift stores, or online marketplaces. According to Fashionuer, a smart approach is to find similar styles and color combinations without breaking the bank.
When browsing through catalogs, keep an eye out for sales on menswear staples that make up NBA Youngboy's signature look, such as layered denim hoodies, distressed jeans, and statement sneakers. Websites like Kolor Magazine offer valuable tips on essential outfit pieces to emulate his style.
Finally, be sure to explore NBA Youngboy Outfits for a more personalized shopping experience. They offer a wide range of options, some exclusive, that will help you build your collection of NBA Youngboy-inspired outfits.
With these resources in mind, you're well-prepared to start curating your wardrobe with NBA Youngboy outfits, making a statement wherever you go. Happy shopping!
Digital Presence of NBA Youngboy's Fashion Style
You might have noticed his unique fashion sense that has been making quite an impact on social media platforms. Here, we'll take a look at some of the ways NBA Youngboy outfits inspire and influence the fashion choices of his followers through his digital presence on Youtube, Tiktok, and Instagram.
Youtube and Tiktok Influence
NBA Youngboy's music videos on Youtube are not only widely popular for their catchy tunes, but also for showcasing his one-of-a-kind style. With eye-catching ensembles and a strong affinity for luxury brands, NBA Youngboy commands attention and sets trends for his fans. Many of his followers even create Tiktok videos mimicking his outfits and fashion choices, showing just how significantly he has influenced style enthusiasts.
Youtube and Tiktok play a considerable role in spreading the word about NBA Youngboy's fashion influence. By watching his music videos and Tiktok content, you too can save outfits to your wishlist and discover new clothing items and accessories to replicate his unique style.
Instagram Inspiration
Instagram is another platform where NBA Youngboy's fashion style truly shines. Follow his account to stay up-to-date with his latest looks, and you'll see he pairs high-end brands like Dior and Balenciaga with edgy streetwear pieces. His style savvy followers often use his Instagram posts as a starting point to build their own outfits and seek inspiration for new clothing combinations.
As a registered user, you have the opportunity to assemble your own NBA Youngboy inspired ensemble through Instagram as well. By closely observing his outfits and the brands he favors, you can create your own wishlist and track down similar items to incorporate into your wardrobe.
In a world where digital influence is prominent, NBA Youngboy has successfully established his presence not only in music, but also in fashion. Embrace this inspiration and revamp your own style with the creative, bold, and impactful outfits that NBA Youngboy showcases across platforms like Youtube, Tiktok, and Instagram.
Contact Information and Official Platform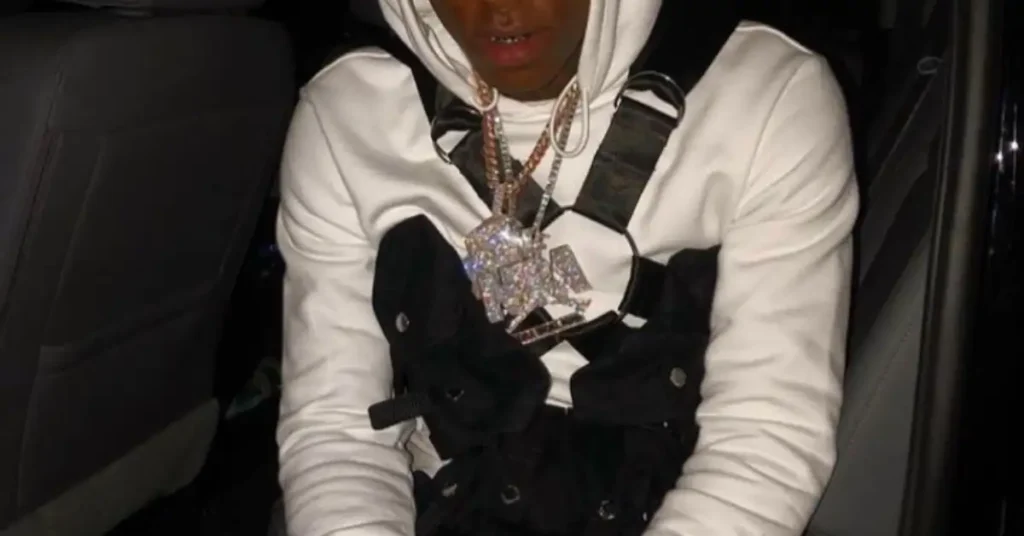 If you're a fan of NBA YoungBoy and his unique style, you might be interested in checking out some of the latest nba youngboy outfits. To find more information and stay updated on his fashion choices, you can follow his official platforms and know how to get in touch with the right people.
NBA YoungBoy's official social media handles are great places to stay updated on his outfits, as well as his music and personal life. You can follow him on Instagram, Twitter, and Facebook for regular updates on his style and other news related to his career.
Another excellent platform for exploring his outfits and style is WHAT'S ON THE STAR?, which includes a comprehensive list of NBA YoungBoy's outfits and details on his clothing choices, such as the brand and prices. Similarly, you can check INC STYLE for more outfit inspiration and highlights from different events he's attended.
For inquiries, merchandising, and other business-related matters, the official NBA YoungBoy website is your best bet to find accurate contact information. The website usually contains a "Contact Us" section, which allows you to get in touch with his management team or other representatives, ensuring that your message is directed to the right people.
Fashion Articles and Exploratory Videos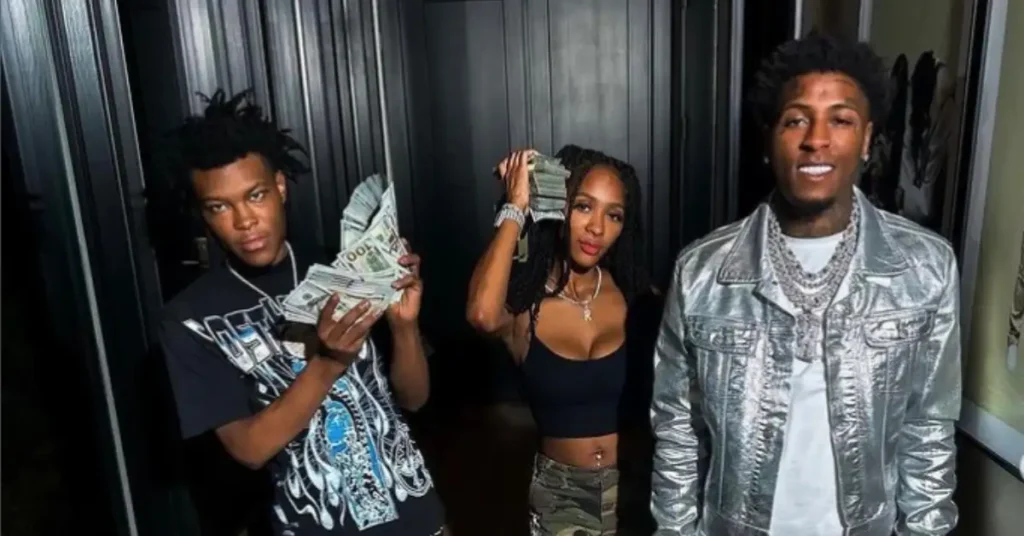 Discovering the world of NBA YoungBoy outfits is like taking a journey through an extravagant wardrobe, where his style truly embodies the essence of luxury streetwear. In this section, we'll explore some notable fashion articles and videos that display the rapper's unique style.
WHAT'S ON THE STAR offers a fascinating look at NBA YoungBoy's wardrobe, including outfit breakdowns and estimated costs. With a combination of designer brands such as Dior, Fendi, and Jordan, it's obvious that he's not afraid to make a statement with his clothing choices.
Kolor Magazine's Big Drip: 8 Ways To Copy NBA YoungBoy's Outfits highlights how fans of the rapper can emulate his iconic style. From statement pieces to casual wear, the article provides tips and tricks to help you channel your inner NBA YoungBoy.
INC STYLE is another great resource for exploring YoungBoy's fashion evolution. The website features numerous outfit posts, providing detailed descriptions and brand information. It's a treasure trove for fashion enthusiasts and fans of the artist alike.
Exploring NBA YoungBoy's outfits wouldn't be complete without diving into his music videos. This article examines the outfits seen in his 'NEXT' music video, with intricate details about every ensemble ranging from high-end designer items to more affordable streetwear.
If you're eager to learn more about the rapper's style in videos, check out Rapstylecheck's article which highlights NBA YoungBoy's outfits from the music video for "Next." This piece offers an in-depth look into the fashion choices that make up his distinctive image.
My Personal Opinion
In my opinion, NBA YoungBoy's outfits are a reflection of his distinctive and unapologetic style. It's evident that he uses clothing as a canvas for self-expression, and his fashion choices often grab attention. One of the things that stand out to me about his style is his preference for oversized clothing. Baggy hoodies, pants, and t-shirts are staples in his wardrobe, creating a laid-back and comfortable yet street-inspired look.
What's intriguing is how he combines luxury designer pieces with more casual streetwear. You might see him wearing expensive sneakers, designer belts, or jewelry that adds a touch of opulence to his overall appearance. This mix of high-end and street fashion creates a unique blend that is undeniably NBA YoungBoy.
Accessories play a significant role in his outfits. Chains, rings, and watches are often part of his ensemble, contributing to his bold and eye-catching look. These accessories make a statement and add an element of extravagance to his style.
Furthermore, NBA YoungBoy's tattoos are an integral part of his fashion. His inked body is not just a form of self-expression but also an accessory that complements his outfits. It adds a raw and edgy dimension to his appearance.
FAQ
Why is NBA YoungBoy so popular?
NBA YoungBoy has been noted for his melodic vocals and "signature aggressive punch and high energy". He is known for his consistency in releasing music, with his work ethic described as being of a "rapid fire pace". YoungBoy has released over twenty-six studio albums, EP's, and mixtapes since 2015.
What does NBA YoungBoy have on his face?
Speaking to XXL about how he got his forehead scars, NBA YoungBoy explained, "I was wrestling and I broke my neck. I had to get a halo in my head with the screws, 4-years-old." Revealing that he felt lucky to be ok afterwards, the rapper went on to say, "God blessed me.
Who is the 23 year old rapper with 11 children?
Rapper NBA Youngboy has allegedly welcomed his 11th child as his ever-increasing brood of children continues to expand. The 23-year-old has reportedly had his 11th child with his ninth baby mama, despite being married to Jazlyn Mychelle.
Who is NBA YoungBoy's brother?
If you enjoyed reading about the topic: NBA YoungBoy Outfits, leave a comment and stay updated on Pinterest for more exciting basketball news.