When it comes to basketball, there's no denying that LeBron James is a major force. With his talent and charisma, it's no wonder he has garnered a wide range of nicknames over the years. In this article, we'll explore some of the most famous nicknames for LeBron James and the meanings behind them.
You may already be familiar with some of these monikers, like "King James" and "The Chosen One". These are just two examples out of the numerous tags people have given him. We'll delve into many more, shedding light on how they originated and what they represent in the context of LeBron's legendary career.
Early Life
LeBron James, known by many nicknames for his basketball prowess, was born on December 30, 1984, in Akron, Ohio. You may be surprised to learn that LeBron's journey to becoming a basketball legend started at a young age.
At just nine years old, LeBron began playing organized basketball. His incredible athletic abilities were already evident, and it didn't take long for him to become known as a prodigy in his hometown of Akron.
In high school, LeBron attended St. Vincent-St. Mary, where his basketball skills truly began to shine. As you can imagine, he quickly became a star player for the St. Vincent-St. Mary Fighting Irish, earning various accolades and honors throughout his high school career. It was during this time that he was given some of his first nicknames as a budding basketball star.
While still in high school, LeBron became a proud father to his first son. This significant life event only motivated LeBron further to pursue his dreams of playing professional basketball and providing for his family.
As LeBron's high school career progressed, he became nationally recognized, with scouts and media outlets calling him "The Chosen One." This nickname, among others, would follow LeBron as he embarked on his legendary NBA journey. So, as you can see, the foundations of the many nicknames for LeBron James began early in his life, shaped by his extraordinary talent and determination in the world of basketball.
Career in NBA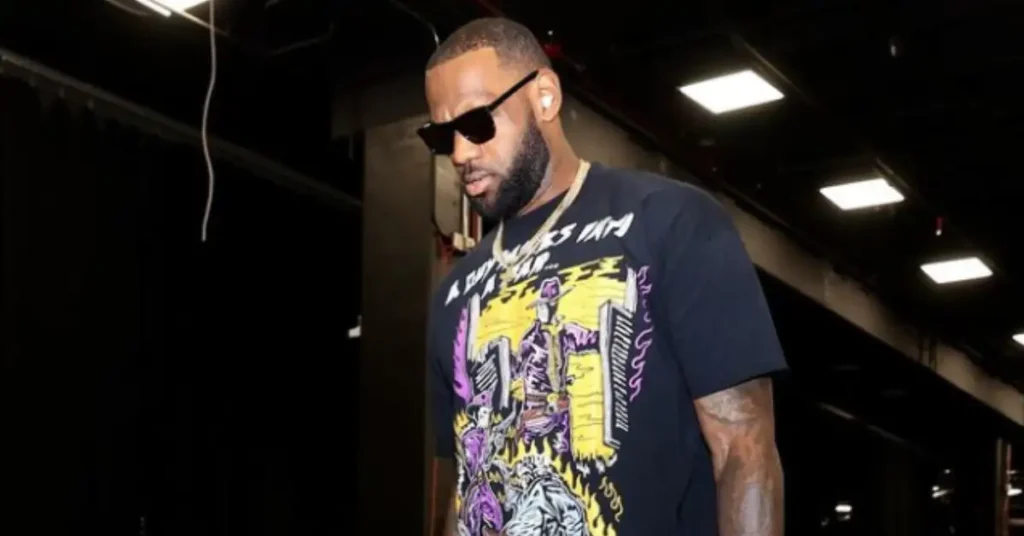 LeBron James, with numerous nicknames, such as "King James" and "The Chosen One," is without a doubt one of the greatest basketball players in NBA history. His remarkable journey through the league began when the Cleveland Cavaliers selected him as the first overall pick in the 2003 NBA Draft.
In his first stint with the Cavaliers, LeBron showcased his exceptional talent and quickly rose to prominence, earning multiple accolades, including two MVP awards. However, it was not until he joined the Miami Heat in 2010 that he would taste championship glory. Teaming up with fellow stars Dwyane Wade and Chris Bosh, LeBron went on to win two NBA titles with the Heat, further solidifying his reputation as one of the greatest players in the league.
I think the reason why I'm the person who I am today is because I went through those tough times when I was younger.

LeBron James
Following his time in Miami, LeBron returned to Cleveland in 2014, determined to bring a championship to his hometown. With a revamped roster that included Kyrie Irving and Kevin Love, LeBron achieved this feat in 2016, overcoming the formidable Golden State Warriors. This victory added yet another layer to his growing legacy, and it demonstrated the depth of his impact as a professional basketball player.
In 2018, LeBron took his talents to Hollywood, signing with the Los Angeles Lakers. Once again, he managed to make an immediate impact, leading the team to an NBA Championship in 2020, their first in 10 years. Through all the ups and downs of his career, LeBron James has consistently proven his worth in the NBA playoffs, building a legacy of greatness that can rival the likes of Michael Jordan and Kobe Bryant.
When discussing the G.O.A.T (Greatest of All Time) conversation, LeBron's name is always present, thanks to his numerous achievements, including four NBA titles, four NBA MVP awards, and seventeen All-Star appearances. In the ever-evolving landscape of the NBA, LeBron's influence on the league is undeniable. As he continues to play for the Los Angeles Lakers, there's no telling what other accomplishments may await this living legend.
Famous Nicknames for LeBron James
When it comes to nicknames for LeBron James, the basketball world has no shortage of options. In his storied career, LeBron has earned multiple nicknames, some of which pay homage to his on-court prowess, while others poke fun at his perceived shortcomings. Let's take a look at some of the most famous monikers assigned to this NBA superstar.
One of LeBron's most famous nicknames is King James, which highlights his reign over the basketball world. Similarly, another popular nickname is The King, a title that has been with him since his childhood, bestowed by friends and family due to his basketball dominance.
Apart from showcasing his royalty-like status in basketball, LeBron has also been called The Chosen One, which refers to the high expectations placed on him since his early days in the sport. As LeBron continued to dominate the NBA, more nicknames emerged, such as LBJ and L-Train, both of which reflect his on-court impact.
Over his career, LeBron has even been heralded as The GOAT, short for "The Greatest of All Time". Though this title is hotly debated among basketball fans, it speaks to the high regard in which LeBron is held by many.
Aside from serious nicknames, there are a few more tongue-in-cheek monikers that have made their rounds, some of which include LeFlop, LeBrick, and LeBum. Despite their negative connotations, these names serve as a reminder that even the greatest athletes have their detractors. Here are some more:
Bron Bron
Akron's Finest
The Akron Hammer
Le Bald
Le Flop
Le Chase
Le Trade
Le Gm
Le Butt
Lebronica
Le Recruiter
Le Bust
Le Sweep
Lebron West
Le Faul
Leb Rowmance
The Akron Assassin
The Akron Avenger
The Akron Annihilator
The Akron All-Star
The Akron Ambassador
The Akron Adonis
The Akron Artist
The Akron Ace
The Akron Alpha
The Akron Athlete
Le Bogus
Le Baldy
Lebron Bames
Lebron Games
Lebron Fame
Lebland James
Le Boner James
Le Bozo James
Le Bonehead James
Le Booger James
Le Brat James
Le Jacka** James
Le Judas James
Le Clown James
Le Fake
The Akron Arrow
The Akron All-World
The Akron Acrobat
The Akron Achiever
The Akron Astro
The Akron Admiral
The Akron Architect
The Akron Apostle
The Akron Almighty
The Akron Anchor
Lebron Espn
Le Dork
Le Whiner
Le Loser
LeAss James
Le Cramp James
Le Dummy James
LeCrap James
Le Arrogant James
Le Dumb James
Lebronbo
The Akron Athletico
The Akron Assailant
The Akron Atom
The Akron Airborne
The Akron Amigo
The Akron Astro
The Akron Adrenaline
The Akron Autograph
The Akron Action Hero
The Akron Alien
The Akron Almighty Dunker
The Akron Ambassador of Hoops
The Akron Artist of the Court
The Akron Adonis of Basketball
The Akron All-Time Great
The Akron Alpha Male
The Akron Anointed One
The Akron Apex Predator
The Akron Architect of Dunk
The Akron Ambassador of Style
The Akron Authority on Winning
The Akron Artist of Assists
The Akron Ace of Playmaking
The Akron Astounding Athlete
The Akron Autograph Legend
The Akron Achiever of Records
The Akron All-Star Commander
The Akron All-World Athlete
The Akron Ambassador of Inspiration
Off the Court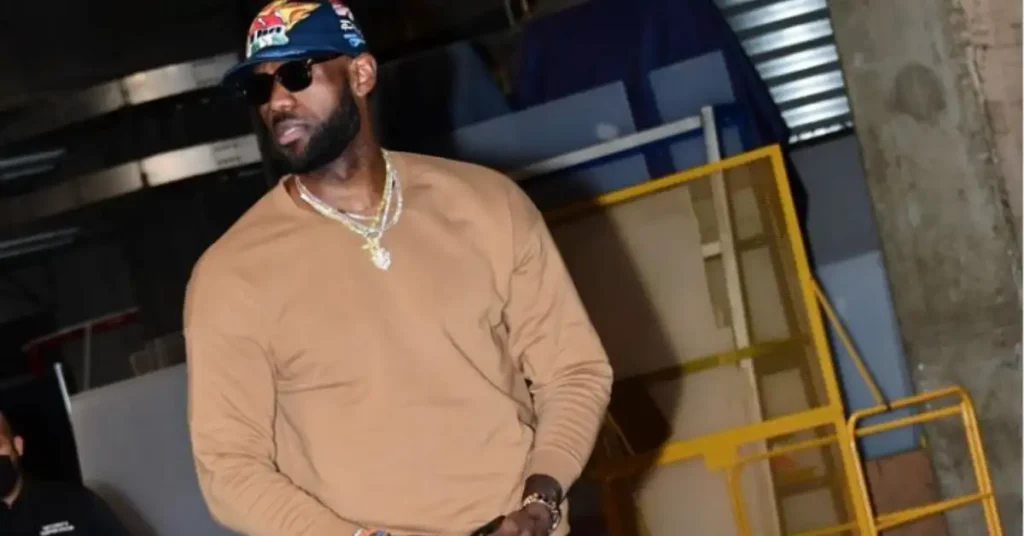 Nicknames for LeBron James, like "King James" and "LBJ," are well-known by basketball fans. But off the court, LeBron is more than just a basketball player; he's also a dedicated philanthropist, businessman, and family man. In this section, we'll explore some of the aspects that surround LeBron's life outside the basketball arena.
LeBron James' commitment to his community and the lives of others is evident through the LeBron James Family Foundation. This organization focuses on helping children and families in need, particularly in Akron, Ohio, where LeBron was born and raised. Through various programs and initiatives, the foundation aims to provide a better future for underprivileged youth.
On the business side, LeBron has teamed up with global giants like Nike, building a strong commercial partnership. Moreover, he's ventured into the world of entertainment through his digital video company, Uninterrupted, and video production venture, SpringHill Entertainment.
Social media plays a significant role in LeBron's life as well. His official Twitter handle, @KingJames, boasts millions of followers, allowing him to connect with fans and share glimpses of his personal life. From touching family moments to workouts and even showcasing his love for tattoos, LeBron's social media presence provides an insight into his off-court personality.
LeBron cherishes close relationships with long-time friends like Randy Mims, who is now a part of his management team. The bond of trust and loyalty they share adds a layer of stability and support in LeBron's life.
Public Perception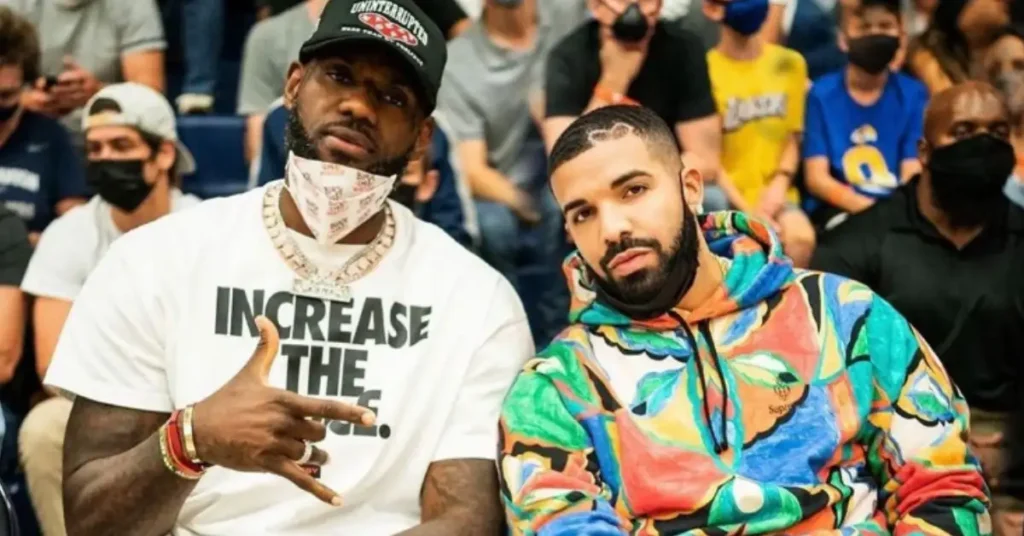 Throughout his basketball career, LeBron James has earned many nicknames that played a significant part in shaping public perception of his persona. Some of the most famous nicknames for LeBron James are "King James" and "The Chosen One," which highlight his dominance in the sport and the high expectations placed on him from an early age source. In this section, we'll discuss the role of media outlets, writers, and public figures in creating and spreading these nicknames, as well as the way LeBron has been perceived in various cultures.
Major publications such as Sports Illustrated heavily featured LeBron James during his rise to stardom, with one of his most memorable covers famously christening him "The Chosen One." The media's fascination with LeBron's story and his talent contributed to the popularization of his numerous nicknames. Sportswriters and analysts from various platforms, including SB Nation, frequently used these nicknames to describe LeBron's impact on the game.
Celebrities and fellow athletes also embraced LeBron's nicknames, further solidifying their place in popular culture. Jalen Rose, a former NBA player and current ESPN analyst, often referred to LeBron as "King James" and praised his achievements on and off the court.
LeBron James' popularity reached beyond the United States, as he became a global sports icon. In countries like China, where basketball enjoys massive following, fans were introduced to his nicknames through translated broadcasts and media articles. There, LeBron was sometimes referred to as "小皇帝" (Xiao Huangdi), which translates to "Little Emperor" – a clear nod to his "King James" moniker.
Television shows, such as "Saturday Night Live," have also played a part in perpetuating LeBron's nicknames. When he appeared as a guest host on the show, some sketches revolved around his renowned "King James" identity, further cementing it into popular culture.
Interesting Facts
I believe, when it comes to nicknames for LeBron James, there are quite a few out there. These nicknames not only highlight his incredible skills on the basketball court but also give us interesting insights into his life and journey. Let's dive into some fascinating facts that connect with LeBron's nicknames and touch upon England, the English translation of the Bible, royal blood, and a State Championship.
Arguably the most famous nickname for LeBron is King James. This moniker reflects his dominance in the sport and his role as one of the NBA's most influential players. It is also worth mentioning the historical connection to England, where King James I reigned from 1603 to 1625. Under his rule, the famous English Translation of the Bible known as the King James Version was published in 1611.
Another popular nickname is "The Chosen One", symbolizing the high expectations placed on him since his early days in the sport. It's intriguing to think about how LeBron embraced this nickname, going as far as to have it tattooed across his back. The concept of being "chosen" relates to the notion of royal blood, as it signifies someone predestined for greatness.
LeBron's incredible high school basketball career is also worth mentioning. He led the St. Vincent-St. Mary High School team to numerous victories, winning not one but three State Championships. These achievements further highlight why the nickname "King James" suits him so well, as he has truly been a force to reckon with in basketball since his teenage years.
My Personal Opinion
In my opinion, LeBron James has earned a plethora of nicknames throughout his storied career, each capturing a unique aspect of his basketball prowess and larger-than-life persona. These nicknames reflect not only his dominance on the court but also the impact he has made on the game of basketball as a whole.
For fans of his three-point shooting, "Bron Bomber" is a playful nickname that draws a parallel to the power of a bomber plane. LeBron's precision from long range can be just as devastating.
FAQ
What are nicknames for James?
Jim or Jimmy/Jimy/Jimmi/Jimi/Jimmie.
Jimbo.
Jay.
Jaime or Jamie.
Why is it called Lebronto?
The Toronto Raptors were at the receiving end of LeBron James' most dominant era in the NBA. As a result, the NBA community renamed an entire city following James' successive dominance of the franchise.
Did LeBron call himself the goat?
According to SportsCenter, via The Orange County Register, James crowned himself the GOAT by saying that he is the greatest to ever step on a basketball court.
Is LeBron greatest of all time?
Many basketball fans across the world speculate about who's the greatest player of all time or simply, who is the GOAT? Although James' phenomenal record indicates his career longevity, he became the greatest player of all time long before he passed Abdul-Jabbar.
If you enjoyed reading about the topic: Nicknames for LeBron James, leave a comment and stay updated on Pinterest for more exciting basketball news.