The exciting world of the NBA has seen many talented players from around the globe, and Turkey is no exception. With their unique skills and exceptional performance, Turkish NBA players have made a significant impact on the game.
In recent years, you've probably noticed a rise in the number of Turkish athletes making their way onto the rosters of NBA teams. These remarkable individuals have not only represented their country on the world stage but have also inspired many back home in Turkey.
Prominent Turkish NBA Players
Turkey has produced several talented basketball players who have made their mark in the NBA. In this section, we'll explore the careers of some prominent Turkish NBA players and their contributions to their respective teams.
Enes Kanter
Enes Kanter, also known as Enes Freedom, has had a long career in the NBA, playing for teams like the Utah Jazz, Oklahoma City Thunder, New York Knicks, Portland Trail Blazers, and Boston Celtics. Kanter's strong inside game and rebounding skills have consistently made him a valuable asset on the court.
Mehmet Okur
Mehmet Okur had a successful NBA career with the Detroit Pistons and the Utah Jazz. As a power forward and center, Okur was known for his shooting range, earning the nickname "Money Man" because of his clutch shooting abilities. He played a crucial role in helping the Pistons win the NBA championship in 2004.
Hedo Türkoğlu
Hedo Türkoğlu is considered one of the most successful Turkish NBA players, having played for teams such as the Sacramento Kings, San Antonio Spurs, Orlando Magic, Toronto Raptors, Phoenix Suns, and Los Angeles Clippers. Türkoğlu's versatility and playmaking abilities allowed him to excel in multiple positions on the court.
Cedi Osman
Cedi Osman is a dynamic small forward who has been playing for the Cleveland Cavaliers since 2017. Known for his perimeter shooting and defensive skills, Osman has become a key contributor to the team's success in recent years.
Omer Asik
Omer Asik, a solid defensive center, has played for teams like the Chicago Bulls, Houston Rockets, and New Orleans Pelicans throughout his career. Asik's rebounding and shot-blocking prowess provided valuable support to his teams on the defensive end.
Furkan Korkmaz
Furkan Korkmaz has made a name for himself as a sharpshooting guard for the Philadelphia 76ers. His ability to stretch the floor with his shooting has made him a valuable scoring option for the team.
Ersan Ilyasova
Ersan Ilyasova's journey in the NBA has included stints with the Milwaukee Bucks, Detroit Pistons, Orlando Magic, Atlanta Hawks, and Philadelphia 76ers. As a versatile and scrappy power forward, Ilyasova has been able to contribute to his teams with his floor spacing and rebounding capabilities.
Furkan Aldemir
Furkan Aldemir had a brief stint with the Philadelphia 76ers during the 2014-2015 season. As a power forward, Aldemir showcased his talents as a rebounder and defender, likely factors that led to his successful career in Europe, particularly with Turkish powerhouse Fenerbahçe.
Semih Erden
Semih Erden, a 7-foot center from Turkey, played for the Boston Celtics and Cleveland Cavaliers during his short NBA career. Erden used his size to his advantage, providing an inside presence on both ends of the floor.
Shane Larkin
Although born in the United States, Shane Larkin represented the Turkish national team, earning him a place on this list. Larkin had brief stints with the Dallas Mavericks, New York Knicks, and Brooklyn Nets, exhibiting his skills as a fast-paced point guard.
Alperen Şengün
Alperen Şengün, a promising young center, was drafted by the Houston Rockets in the 2021 NBA draft. As an efficient scorer and solid defender, Şengün has the potential to become a valuable player in the league for years to come.
Omer Yurtseven
Omer Yurtseven, a 7-foot center, began his NBA career with the Miami Heat during the 2021-2022 season. His rebounding and shot-blocking skills could make him a valuable asset to his team in the future.
Mirsad Turkcan
Mirsad Turkcan made history as the first Turkish basketball player to play in the NBA, with brief appearances for the New York Knicks during the 1999-2000 season. Turkcan's entry into the league undoubtedly paved the way for future Turkish players to make their mark in the NBA.
Hedo Turkoglu
Hedo Turkoglu, also known as Hidayet Türkoğlu, established a successful NBA career, with notable stints at Orlando Magic, Toronto Raptors, Phoenix Suns, Los Angeles Clippers, and Sacramento Kings. Türkoğlu was known for his versatility on the court, with consistent scoring and playmaking attributes.
Team Participation of Turkish Players in NBA
When you think of Turkish NBA players, you might be surprised to know how they have made a significant impact across various teams in the league. From the Houston Rockets to the Utah Jazz, Turkish players have showcased their skills and contributed to the success of their respective teams.
One notable Turkish player is Alperen Şengün, who currently represents the Houston Rockets in the NBA and the senior Turkish national team. Şengün, considered one of the most promising Turkish-born prospects in the NBA, won the Turkish League MVP award in 2021.
Apart from the Rockets, the Utah Jazz also had Turkish talent on their roster in the form of Enes Kanter. Kanter played for the Jazz from 2011 to 2015, bringing a solid post-up game and rebounding abilities to the team. His contributions to the Jazz have made him a fan-favorite among Utah supporters.
Over in the Windy City, the Chicago Bulls had Ömer Aşık on their roster from 2010 to 2012. As a defensive-minded player, Aşık played a crucial role in anchoring the Bulls' defense during his time with the team. His shot-blocking and rebounding skills helped solidify the Bulls as a formidable defensive unit.
Down in Orlando, the Magic had Hedo Türkoğlu as a key player from 2004 to 2009 and then again from 2010 to 2013. Türkoğlu's unique skill set of handling the ball, passing, and scoring made him a versatile threat on the court. As a result, he played a significant part in the Magic's memorable run to the NBA Finals in the 2008-2009 season.
Lastly, the Cleveland Cavaliers utilized the talents of Cedi Osman, a versatile forward hailing from Turkey. Since joining the Cavs in 2017, Osman has been an asset to the team with his scoring, playmaking, and rebounding abilities. As he continues to grow and develop in the NBA, Osman represents the bright future of Turkish basketball in the league.
Statistical Overview of Turkish NBA Players
When it comes to Turkish NBA players, there's a significant amount of talent that has left a mark on basketball history. From scoring machines to defensive stalwarts, these athletes have not only showcased their skills but also have made an impact on their respective teams. Let's dive into some key statistics that highlight the performance of Turkish NBA players.
First, let's talk about Hedo Türkoğlu, who has played the highest number of games among all Turkish NBA players. Throughout his career, Türkoğlu appeared in a total of 997 games, with an average of 11.1 points per game (PPG) and 4 rebounds per game (RPG). One can't overlook his versatility as a wing player. His ability to shoot from beyond the arc and handle the ball as a playmaker proved to be invaluable assets for his teams.
Enes Kanter Freedom, a prolific center in the league, has made his presence felt in the paint. A dominant rebounder, Kanter posts career averages of 11.6 PPG and 7.9 RPG. His efficient scoring and tenacity on the boards have earned him a reputation as a reliable big man on both ends of the court.
Turkey has a tradition of producing valuable role players that are willing to do the dirty work on the court. Players like Ersan İlyasova, a forward who has made a career of hustling for rebounds and playing solid defense, epitomizes that work ethic. İlyasova's career numbers may not be flashy, but his 10.5 PPG, 5.6 RPG, and 48% shooting percentage display his efficiency and effectiveness as a glue guy.
In terms of overall impact, the stat sheets of Turkish NBA players showcase a blend of scoring prowess, rebounding ability, and defensive tenacity. From Türkoğlu's versatility to Kanter's dominance in the paint and İlyasova's hustle, these players have certainly left an indelible mark on the NBA. As a fan of the game, you can't help but appreciate the contributions these Turkish athletes have made to the league.
Notable Achievements
Turkish NBA players have made a name for themselves in the basketball world with their impressive performances and achievements. In this section, we'll highlight some of the notable accomplishments of these players in NBA history, including NBA Champions, NBA Draft success, All-Star appearances, and their impact in FIBA World Championship games.
One of the most recognized Turkish NBA players is Hedo Türkoğlu, who had a successful career with notable milestones. He was a crucial player in the Orlando Magic's 2009 NBA Finals run and was named the NBA's Most Improved Player in 2008. Türkoğlu also had an impressive international career, guiding Turkey to a silver medal in the 2010 FIBA World Championship.
Another standout player has been Enes Kanter Freedom, who has consistently put up strong numbers in the NBA. Born in Turkey, he was the third overall pick in the 2011 NBA Draft, making him one of the highest-drafted Turkish players in the league. Kanter has been a solid contributor throughout his career, playing for several teams, including the Boston Celtics.
Moreover, Turkish players have also made appearances in the NBA All-Star festivities. In 2011, Mehmet Okur participated in the Three-Point Contest, showcasing his shooting skills beyond the arc. It's a rare feat for big men, and Okur's participation demonstrated the versatility of Turkish talent in the NBA.
The 2010 FIBA World Championship also served as a stage for Turkish NBA players to showcase their abilities. With players like Türkoğlu and Ömer Aşık representing their nation, Turkey had a strong presence in the tournament. The team's silver medal performance helped bring attention to the country's talented basketball players and further established Turkey's standing in the sport.
Turkish Players in International Play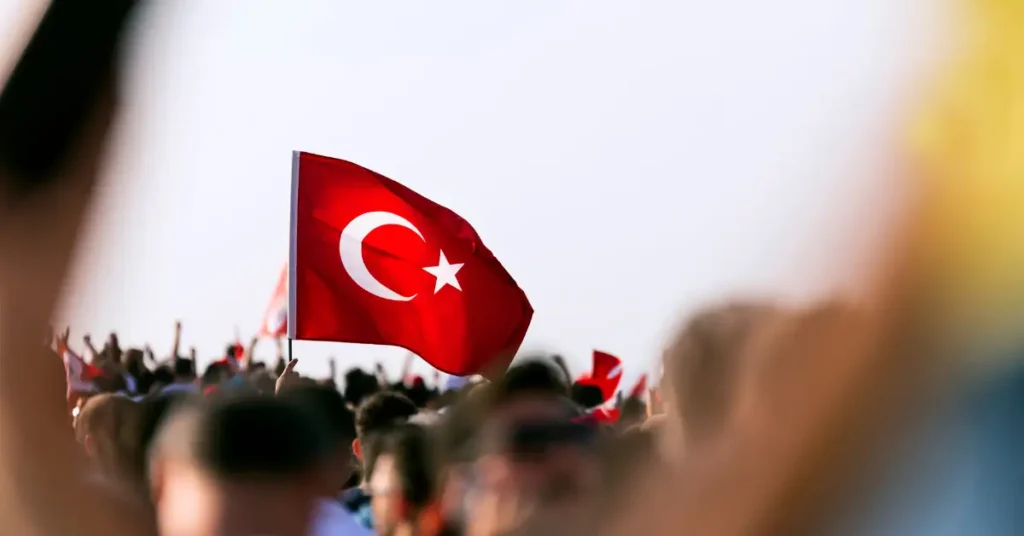 When it comes to Turkish NBA players, there's a lot to be enthusiastic about. These talented athletes have made an impact not only in the NBA but also on the international stage. In this section, we'll take a look at the involvement of Turkish players in international play, their contributions to the National Team, and their performances in European leagues like the Euroleague and the Turkish Super League.
Many of these players, such as Hedo Türkoğlu and Alperen Şengün, have represented Turkey in international play. They have showcased their skills and brought pride to their country while competing against the world's best basketball players. As a result, the Turkish National Team has gained more recognition and respect within the basketball community.
Several Turkish NBA players have also made their mark in the Euroleague, the premier professional basketball competition in Europe. They have consistently demonstrated their talent and hard work on the court, earning accolades and contributing to their teams' successes.
Playing in the Turkish Super League, Turkey's top professional basketball league, has been a huge part of many Turkish NBA players' development. This league has served as an important stepping stone for these players before they move on to the NBA or other high-profile international leagues. By honing their skills here, they have increased their chances of getting spotted by NBA scouts and signing with a team in the league.
Personal Lives and Controversies
When it comes to Turkish NBA players, their athletic talent impresses you as a fan, but their personal lives and off-court controversies can be equally captivating. In this section, we'll explore the fascinating stories and challenges faced by some prominent Turkish NBA players, such as Enes Kanter Freedom, Mirsad Türkcan, Ersan İlyasova, and Hedo Turkoglu.
Enes Kanter Freedom
Enes Kanter Freedom, a Turkish-American NBA player, has been a vocal critic of the Turkish government, especially President Recep Tayyip Erdoğan. As a supporter of the Gülen Movement, Enes faced legal trouble in Turkey and was even disowned by his family for his criticism.
Kanter, who has condemned human rights abuses not only in Turkey but also in China, claims that the NBA is blackballing him because of his activism. He is currently stateless and does not have a Turkish passport, making it challenging for him to travel to international games.
Mirsad Türkcan
Mirsad Türkcan, born in Novi Pazar, is a former Turkish NBA player who played briefly for the New York Knicks. He then moved to Europe and became a prominent player in European leagues. Türkcan spent most of his career playing for various clubs in Turkey and Russia. While his off-court controversies are not as publicized, Türkcan had a successful career in the EuroLeague and was granted Swiss citizenship in 2013.
Ersan İlyasova
Ersan İlyasova, another Turkish NBA player, has faced rumors about his real identity and age for years. Some conspiracy theorists believe that İlyasova is not Turkish but actually from Uzbekistan and that he falsified his age and name to enter the NBA. However, these allegations have never been proven, and İlyasova has continued to play in the league without any significant scandals.
Hedo Turkoglu
Hedo Turkoglu enjoyed a successful NBA career, but his post-NBA life is marked by controversy. After retiring as a player, Turkoglu became the head of the Turkish Basketball Federation. His new role placed him in direct opposition to Enes Kanter Freedom, and he has [described Kanter's speaking out on political issues as "irrational"] (https://www.abc.net.au/news/2021-04-07/turkey-nba-star-enes-kanter-disowned-by-his-family/100050984).
Turkoglu has also faced scrutiny for his support of the Turkish government and President Erdoğan. During his NBA career, he was known to support political causes such as Free Tibet, but he later changed course and allegedly played a role in the suspension of talks between the NBA and London, due to his political stance.
Impact of Turkish NBA Players on the League and Basketball
When you think of Turkish NBA players, names like Hedo Türkoğlu, Mehmet Okur, and the more recent Enes Kanter Freedom might come to mind. These players from Turkey have certainly made an impact on the league and the sport of basketball in America.
Turkey has produced several NBA talents over the years, with some of its players having long-standing and successful careers. Hedo Türkoğlu, for example, played in the NBA for 15 seasons and became the first Turkish player to win an NBA championship, achieving this with the Orlando Magic in 2009. Similarly, Mehmet Okur, a two-time All-Star, played for 10 seasons in the league, also winning a championship with the Detroit Pistons in 2004.
Moreover, some Turkish NBA players have helped popularize the sport back in their home country. Ibo Kutluay, widely known for his shooting prowess, played a significant role in popularizing professional basketball in Turkey. Although Kutluay's NBA career was short-lived, his influence on the sport domestically was immense.
In addition to their on-court accomplishments, Turkish NBA players often draw attention to political and social issues. Enes Kanter Freedom, an outspoken critic of President Recep Tayyip Erdoğan and a proponent of human rights, has used his platform to raise awareness about the political situation in Turkey and beyond.
My Personal Opinion
In my opinion, the Turkish NBA players have made a significant impact on the league, showcasing their skills, determination, and passion for the game. From Hedo Turkoglu's versatility to Mehmet Okur's sharpshooting, these athletes have consistently elevated their teams and the level of competition. They not only represent their country but also contribute to the global diversity of the NBA. Watching them on the court has been a true pleasure, and their achievements serve as an inspiration for aspiring players worldwide.
FAQ
Who was the first Turkish NBA player?
Türkoğlu was selected by the Sacramento Kings with the 16th pick of the 2000 NBA draft. He was the first Turkish-born player in NBA history. He played alongside other European stars such as Vlade Divac and Peja Stojaković.
Is there an Arabic player in the NBA?
Abdelrahman Nader is currently the only Egyptian player drafted in the NBA. The star started playing college basketball for the Northern Illinois Huskies before he was drafted by the Boston Celtics, followed by Oklahoma City Thunder, then the Phoenix Suns.
If you liked this blog article about the topic: Turkish NBA Players, don't forget to leave us a comment down below to tell us about your experience.